Peter Taylor hopes Gillingham can play attacking game
Last updated on .From the section Football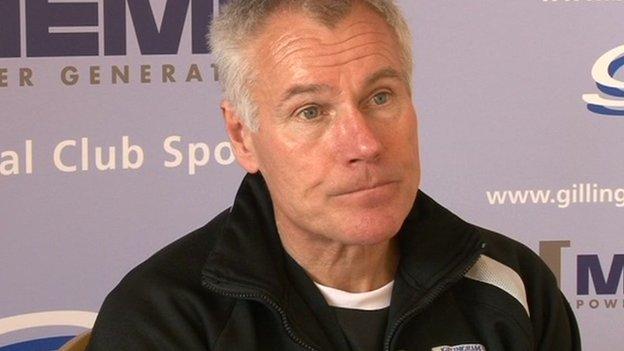 Gillingham interim manager Peter Taylor hopes his side will be able to show attacking flair.
The 60-year-old, whose side are 17th in the League One table, takes charge for the first time on Saturday when the Gills face Preston North End.
"When we haven't got the ball I expect the team to be organised defensively," Taylor told BBC Radio Kent.
"When we have got the ball I like to give players freedom to move around, be hard to mark and unpredictable."
Taylor was manager of the Kent club in 1999-2000 and he has returned to Priestfield Stadium following the sacking of Martin Allen last Sunday.
The former Leicester, Brighton, Hull, Crystal Palace, Stevenage, Wycombe and Bradford manager is in interim charge while chairman Paul Scally searches for a new manager.
But he has already expressed his interest in taking the job permanently.
Taylor says he is prepared to mix up his tactics to help the team move away from the League One relegation zone and climb the table.
The one-time England caretaker manager is known for wanting his sides to play a passing game, rather than the more direct approach the Gills were playing in recent games under Martin Allen.
"At times I have heard maybe Gillingham played long," Taylor said.
"When they played here against Brentford I didn't think that they did. They played some good football that day.
"The division is a bit of both. There are times where you can play and times where it is a bit dangerous and you have to knock it forward to be safer rather than creative.
"We are looking at all that and I think the way I have asked the players to look at it, they are adjusting well.
"I think the modern system in League One and Two is, nine times out of ten, 4-4-2. All of a sudden teams are going a bit different."
After only taking interim charge of the side on Monday, Taylor says he will only make minor changes to the playing style at first.
"They are good lads and there is a new coach here so they are going to be doing things right, aren't they?" he said.
"I have seen them play a couple of times this year at Priestfield and know roughly what they can do.
"I am not looking to change too much because to have three sessions you could confuse people. We are going to keep it simple but they have responded well."