Zambia want Fifa action on Mazembe over missing players
By Piers Edwards
BBC Sport
Last updated on .From the section Football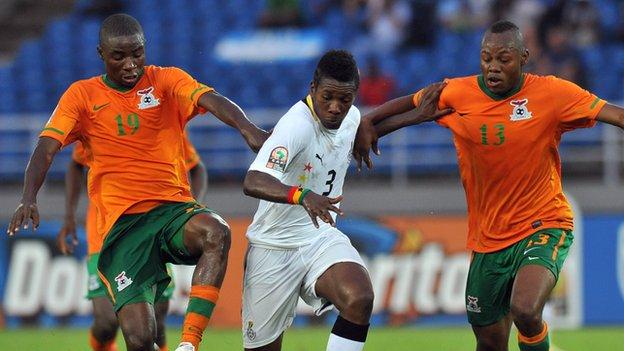 Zambia's FA wants Fifa to take action against TP Mazembe after three players from the Congolese club failed to travel to China for a recent friendly.
The 2012 African champions lost 2-0 against Brazil on Tuesday, but were without injured trio Nathan Sinkala, Rainford Kalaba and Stoppila Sunzu.
"We need to guard against this happening in future," said Zambia FA (FAZ) vice-president Boniface Mwamelo.
Mazembe have refuted allegations that they asked their players not to travel.
"If Mazembe did not want players to travel to China because they were injured, then we would not have chartered a plane to take those players to Zambia," club chairman Moise Katumbi told BBC Sport.
"It cost us a lot of money but they never checked on the players. I hope they know what they are doing."
One Mazembe player did contest Tuesday's match in Beijing but Zambian officials say the club did not release its injured trio - two of whom are said to have malaria, while Sunzu has knee troubles - early enough.
"When we saw the challenges with Mazembe regarding the players' release, we sought Fifa intervention," Mwamelo told BBC Sport.
"Fifa then wrote on 11 October to give a clear directive that Mazembe should release the players for them to be assessed by a doctor appointed by the Zambian FA."
FAZ says the players arrived in the Zambian capital Lusaka so late they missed a meeting with national team doctor Joseph Kabungo, so prompting chairman Kalusha Bwalya to request their presence in Beijing.
The players then went missing, whereupon Zambian officials issued arrest warrants for them, saying the trio had secretly travelled back to the Democratic Republic of Congo - a claim Mazembe also deny.
"The Department (of Immigration) intends to arrest the players and anyone who may have aided their illegal crossing," Zambia's Department of Immigration public relations officer Namati Nshinka said in a statement.
"We have alerted our officers throughout the country especially those at the borders to intercept the players on sight."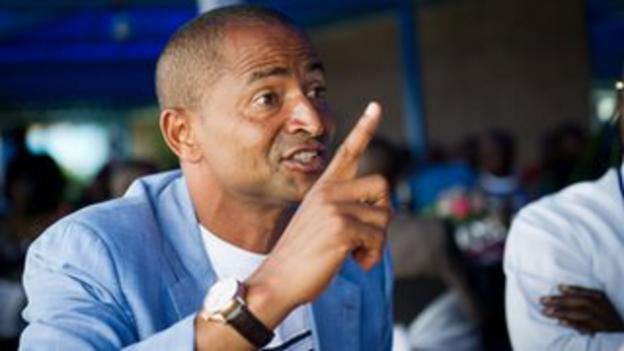 The whereabouts of the players in question are unknown, with Mazembe saying they have asked FAZ for their release so they can prepare for a vital Confederation Cup semi-final at home to Stade Malien this weekend.
Leading 2-1 from the first leg in Mali, a draw on Saturday would take Mazembe - who stunned many observers by reaching the final of Fifa's Club World Cup in 2010 - to a final clash against Tunisian opposition.
"If I send a player to the national team, it's up to the national team to send my players back," Mazembe chairman Moise Katumbi told BBC Sport.
"Mazembe's job was to send the players to Zambia for them to check whether they were injured. But the players weren't even examined."
With Dr Kabungo having departed for Beijing, a doctor with experience of working for the Under-23 national team had been earmarked to inspect the players - although no such assessment ever took place.
"I now want to appeal to the sports minister and the government to lift the arrest warrant placed on us so that I get back to my club," Kalaba told BBC Sport.
"Had I been fit, I would have loved to go to China because the match against Brazil is historical and high-profile."
Both Mazembe and FAZ say they have written to Fifa, with the world governing body declining to comment because their investigations are ongoing.
"We are expecting Fifa to take action so that it serves as an example," added Mwamelo. "We are not being vindictive. All we want is to ensure is that both parties comply and behave by the book."
Katumbi, meanwhile, has said he is surprised by the breakdown in relations, describing FAZ chairman Bwalya - a former African Footballer of the Year - as being 'like a brother to me'.
Eighteen months ago, the Congolese club produced five members of the Zambian squad that shocked the continent by winning its first Africa Cup of Nations title.
Additional reporting by Farayi Mungazi, and Kennedy Gondwe in Lusaka.