Ross County A-A Inverness CT
Last updated on .From the section Football
A power failure at half-time meant the first Highland derby of the season had to be abandoned.
With the match poised at 0-0 after a lacklustre opening 45 minutes, Ross County's Global Energy Stadium was plunged into darkness.
Inverness had the better of the first-half but referee John Beaton was busiest, issuing five yellow cards.
Half-time was extended and although the floodlights briefly came on again, the power failed for a second time.
Ross County chairman Roy MacGregor told BBC Radio Scotland: "We're really disappointed for all the fans, the officials and the players.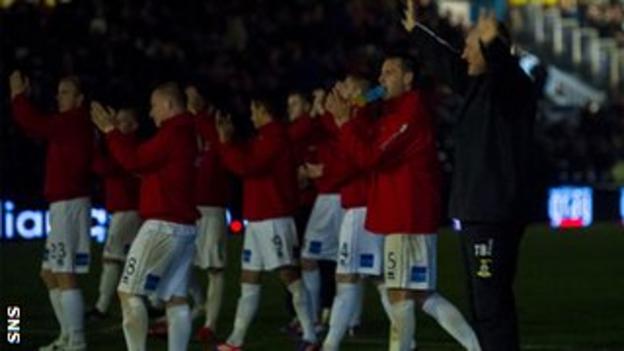 "And also for you guys, the BBC who've come up to the Highlands for the game.
"With the rain today, with all the water, I'm afraid we're not in control of that at all."
Referee Beaton told BBC Radio Scotland: "We gave it as long as we could but the third chance was the last chance and when the lights failed we couldn't wait any longer.
"It was caused by an overload; the players enjoyed the first half, as did the match officials. We're all disappointed. It gets to the point: how long can we leave them sitting in the dark?
"We'd have loved to have finished the game but we'll need to come back again."
Inverness manager Terry Butcher told BBC Radio Scotland: "It's just one of those things.
"I'm not sure what the reason was but we live to fight another day and we'll come back and do it all again. It's disappointing of course."