Kalaba, Sinkala & Sunzu face more immigration questions
By Kennedy Gondwe and Ian Hughes
BBC Sport
Last updated on .From the section Football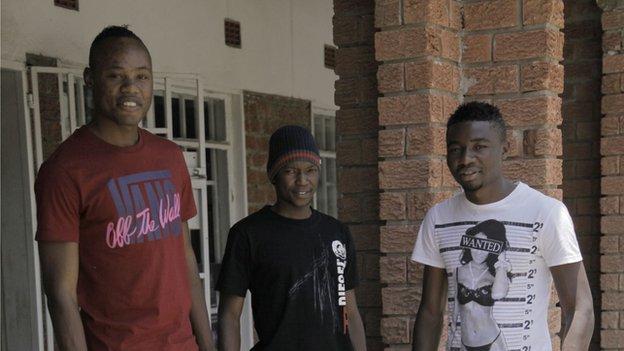 Zambian immigration authorities have told the three players who have had their passports confiscated that will face further questioning on Wednesday.
Midfielders Rainford Kalaba and Nathan Sinkala, and defender Stoppila Sunzu, who all play for TP Mazembe in neighbouring Democratic Republic of Congo, had their travel documents taken away on Friday night.
It followed an interrogation by immigration officials that lasted over three hours in Ndola, northern Zambia.
Immigration officials allege the trio secretly travelled back from Zambia to DR Congo earlier in the week, after they did not travel with the Zambia squad to Beijing for an international friendly against Brazil - a claim the players deny.
"I am very upset with what our country is doing to us. This is unacceptable," Kalaba told BBC Sport.
"We have been working hard for this country and brought joy by winning the Africa Cup [of Nations] for the first time [in 2012].
"But look at the treatment we are receiving now. I am very disappointed. Very, very disappointed with my country."
The TP Mazembe stars missed Zambia's midweek friendly in China, amid a row over their fitness and were alleged to have gone missing.
But Kalaba has denied the players had secretly returned to DR Congo after failing to make it to China.
The midfielder maintains he and his two colleagues switched off their phones because of the publicity and interest the case had attracted.
"There's an invisible hand in what's happening to us," added Kalaba.
"We are not the only players that missed the friendly against Brazil, but why is it that people are only questioning us and not our other friends that didn't make it for the friendly?"
Zambia issued warrants for the players to be arrested on Tuesday, and on Friday they were turned away from the border when they tried to return to DR Congo and join up with their club for Saturday's this weekend's Confederation Cup semi-final second leg against Stade Malien.
Their lawyer Freddie Chalenga said the three were shocked at the treatment but remained confident the players' passports will be returned on Monday.
He called on the Football Association of Zambia (FAZ) to defend the players in such circumstances.
"It's important that officials at FAZ handle these issues with a lot of care because the interest of the nation is at heart, but the interest of the players fulfilling their club contracts is also at heart," he said.
FAZ has called for the sanctioning of both the players and their club TP Mazembe, while the sports minister Chishimba Kambwili has labelled the trio unpatriotic.
Mazembe president Moise Katumbi said he was disappointed that his players would miss the match on Saturday.
"It's sad that players can have their passports confiscated over football and can't feature in our weekend's match. I am disappointed," he said.
Additional reporting by Farayi Mungazi.