Glasgow City manager eyes entry to English Women's Super League
Last updated on .From the section Football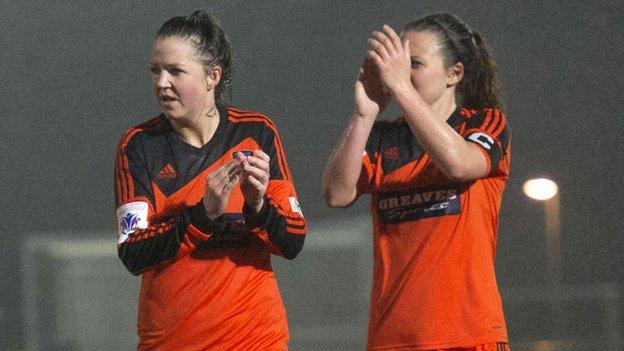 Glasgow City manager Laura Montgomery has repeated her desire for the club to play in England's Super League.
The question arose again after Wednesday victories set up an all-British tie against Arsenal in the Women's Champions League last 16.
"We have made that known before," Montgomery told BBC Radio 5 live. "But, at the moment, it doesn't seem possible."
The Football Association says present rules do not permit Glasgow to enter.
But, as far as the Scottish FA is concerned, Glasgow are free to pursue the idea as the club are not members of the governing body north of the border.
Glasgow have dominated the Scottish Women's Premier League, this month and finishing the season with a 17-point lead over second-top Hibernian.
And they view joining the English set-up as a way of guaranteeing tougher competition every week.
"Why not from our point of view?" said Montgomery. "We have been so successful in Scotland and we see how successful the Super League is down there.
"And it does make us quite envious up here of wanting to be part of that and I think Glasgow City would compete."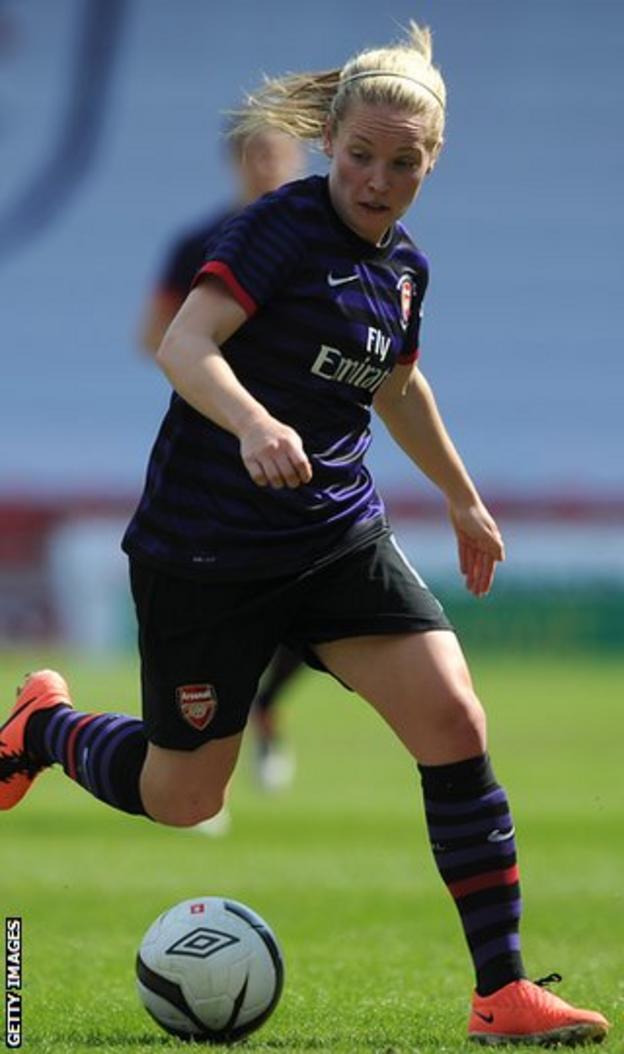 There is a precedent, with Dutch outfit Twente, who Glasgow defeated in the group stage, and Belgian side Standard Liege, playing in a cross-border league set-up.
It is the second year running that Glasgow have reached the last 16 and they will be looking to avoid a similar scoreline to last season at this stage.
The Scots were thrashed 17-0 on aggregate by former European champions, Turbine Potsdam.
Arsenal, who completed an 18-2 hammering of Kazakh side CSHVSM-Kairat this week, are ranked fourth in Europe - one place behind Glasgow's German conquerors from last term - and will be a further test of Glasgow's progress and quality.
"From a British and fans' point of view, it's a fantastic tie and, for ourselves, from a football view, Arsenal are one of the top sides in Europe," added Montgomery.
"We've never not reached the quarter-finals, they have been in the semis of the Champions League for the last three years in a row, they are former winners, so it's a very challenging tie for us.
"But it's certainly one to savour and one we are very much looking forward to.
"The bet is clearly with Arsenal, given their track record and the quality side they are.
"But never discount the underdog, nothing is impossible in football."
Adding intrigue to the tie is the presence of Scotland midfielder Kim Little, forward Emma Mitchell and midfielder Caroline Weir in an Arsenal squad managed by fellow Scot Shelley Kerr.