Cardiff City: Craig Bellamy full of praise for Malky Mackay
Last updated on .From the section Cardiff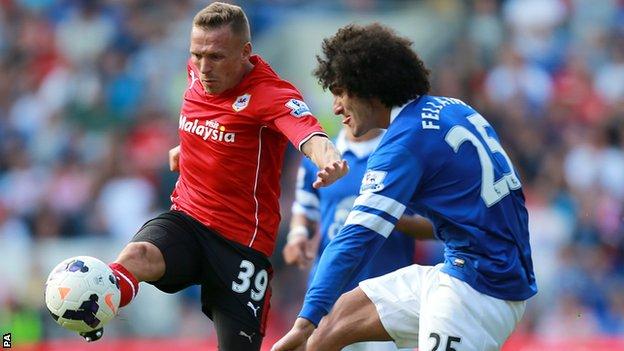 Cardiff manager Malky Mackay is the "most important factor at this club", according to forward Craig Bellamy.
"He's taken this club on to another level and what he's done has been remarkable," said Bellamy.
"We're changing and trying to improve and it's all been down to him. I don't just have respect for him as a manager but also as a person."
Mackay led the club into the Premier League for the first time and Bellamy added that the players know where they stand with the 41-year-old.
"You have to perform, especially with our manager, because you know if you don't you are coming off at half-time - he's that ruthless!" Bellamy said.
The off-the-field problems at the Cardiff City Stadium will not affect the players' preparations for Saturday's game against Chelsea, Bellamy insisted.
The 34-year-old has been away in Belgium playing his final game with Wales before retiring from international football, so has been away from things for a few days.
But he said: "No-one has really been talking about it. As players you are paid to play and your performances are what you are judged on, so you have to concentrate on that.
"If you look from the outside you can look for excuses but that's not the mentality of the club or the players.
"We're organised, the manager's gone through Chelsea so we know what we're up against. It was always going to be tough against them regardless of what's happened.
"For me I have got a lot to concentrate on. The first thing is to get in the team and then try to keep my place. Then I want to get my performances to a level that I want them to be at.