Paul Scholes: Man Utd legend secretly helps Stalybridge Celtic
Last updated on .From the section Football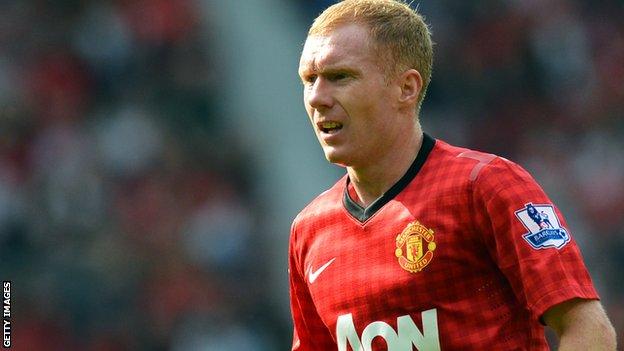 Ex-Manchester United star Paul Scholes has taken training at Stalybridge Celtic, it has emerged.
"He wanted it kept private and the lads, although they were really excited, were brilliant in not letting it out," revealed chairman Rob Gorski.
Scholes retired for a second time this summer after winning his 11th title.
He has close ties with Stalybridge as his son Aaron is part of their youth set-up and Scholes has previously played in a charity game for the club, who are in the sixth tier of English football.
"I asked Paul, in a private moment, to be honest with me about the lads and their ability and he was sincere when he said that he'd watched Oldham play a couple of times this season, and he thought that many of our players were technically their equal," added Gorksi in a post on the club's website forum.
"Paul is going back to work with the United Under-19s but he's gone back with great memories and everyone's really appreciated having him around. A truly class guy."
Stalybridge have now appointed Keith Briggs and Andy Fearn as their new management team.