Adrian Mutu: Juventus and Livorno told to pay Chelsea compensation
By Saj Chowdhury
BBC Sport
Last updated on .From the section European Football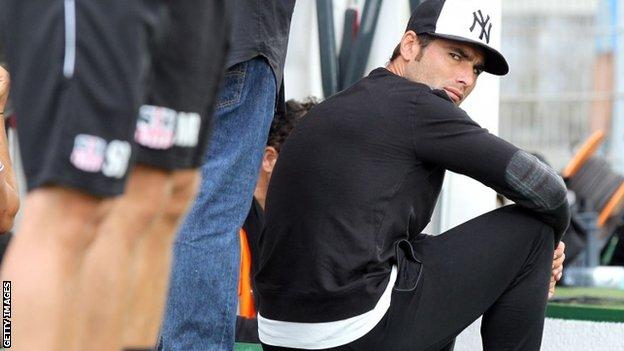 Juventus and Livorno have been ordered to pay some of the £14m compensation Adrian Mutu owes to ex-club Chelsea.
Mutu, 34, was sacked by Chelsea in 2004 for a positive drugs test and served a ban, before moving to Livorno and then Juventus - both free transfers.
In 2010, it was ruled the Romanian should pay Chelsea £14m for a breach of contract, but the Serie A clubs have now been told to help foot the bill.
Fifa said the clubs are "jointly responsible, together with the player".
The statement received from a Fifa spokesman on Friday read: "According to the decision of the DRC [Dispute Resolution Chamber], the clubs, Juventus and Livorno, are held jointly responsible, together with the player, Adrian Mutu, for payment of the amount of compensation that the player has been ordered to pay to the club, Chelsea.
"The concerned parties were notified of the relevant decision on 7 October 2013.
"In accordance with art. 67 par. 1 of the Fifa Statutes, this decision may be appealed against before the Court of Arbitration for Sport (Cas)."
BBC Sport has learnt that the legal team of Serie A champions Juventus has already started putting together a case to present to Cas.
Former Romania international Mutu was one of new Chelsea owner Roman Abramovich's first big-money signings when he arrived from Italian side Parma for £15.8m in 2003.
After a bright start to his career at Stamford Bridge, the Blues forward suffered problems on and off the pitch.
He had difficult relationships with managers Claudio Ranieri and Jose Mourinho before he was sacked by the club for testing positive for cocaine.
Chelsea sought compensation from Mutu in order to recover a large amount of the fee they paid to sign him, a bid that Fifa, the Court of Arbitration for Sport, and finally - after five years of legal disputes - the Swiss Federal Court supported. The compensation figure, based on lost earnings, was calculated on the length of time Mutu's Chelsea contract had left to run, and was the highest handed down by Fifa.
Now, Juventus and Livorno have been told to pay towards the compensation, with Chelsea holding them liable because they signed him for free.
Mutu signed for Juventus in January 2005, but could not immediately join the Italian giants because they had their full quota of non-EU players.
Instead, a deal was brokered with fellow Serie A club Livorno so that they signed the Romanian, who was available on a free transfer, until Juve could offload one of their non-EU players.
Mutu never played for Livorno and eventually made his first appearance for Juve in May of that year.
The Romanian is currently at French Ligue 1 club Ajaccio.