Sir Alex Ferguson: England manager's job horrible
Last updated on .From the section Football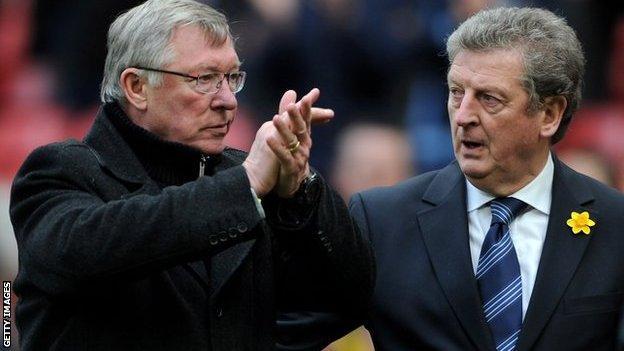 Former Manchester United boss Sir Alex Ferguson has described the England manager's position as a "horrible job".
Ferguson, who retired this summer after 27 years in charge at Old Trafford, has sympathy with Hodgson.
"I don't think the England job is a good one. I think it's a horrible job," he told The Daily Telegraph.
"Managers have tried different ways of managing the press. Some have tried to curry favour with some and not others.
"But because England haven't won the World Cup since 1966 they're all going up the same alley. Unless you win, it's a hard job."
Hodgson and England came in for criticism during the qualifying campaign, notably when former captain Gary Lineker described their 0-0 draw in Ukraine as "awful".
Ferguson, 71, said: "I probably never bothered about seeing how the press portrayed England for international games. I knew the manager's job was a nightmare.
"Now, I scan papers more than I did in 20-odd years. I was interested in reading all the things about Roy Hodgson and the game in Ukraine, the angles they take.
"Some are pro, some are against, some are middle of the road. Roy's reaction was interesting. Roy's a manager of great experience. Gary always comes across with wee throwaway lines. I was surprised Roy got himself annoyed with that."
Now a director at United, Ferguson is keen to spend time away from football, but says he is "there to help" successor David Moyes.
"I'm a spectator with responsibility. I'm a director and I want to make a contribution as a director that will play a part," said Ferguson, who is also working with the Harvard Business School on a study of his management techniques.
"We've got a young manager and I'm there to help him. We've had a lot of dialogue, David and I, over the last few weeks, and he's been very, very good.
"He's been very open about what his plans have been. Any help he's needed or wanted, he's got it there.
"My life as a United person continues. And that means winning; enjoying watching them winning. I don't need to worry about refereeing decisions, agents or the press any more."