Rangers: Sandy Easdale backs board direction
Last updated on .From the section Football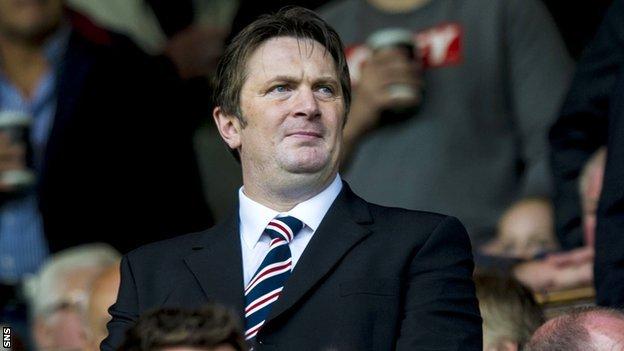 Rangers director Sandy Easdale has insisted that the present board of the League One club has a business plan that it is determined to implement.
The Rangers board was left further depleted this week after the
It follows a campaign by a group of shareholders for boardroom changes.
Easdale insists he does not want to become involved in those arguments but backs the board's direction.
"I am a committed investor and fan and want nothing other than to see Rangers continue its progress back to the top of Scottish football," he said.
"As far as I am are concerned, there is a business plan in place and I am certain the directors will do everything to ensure that it continues to be implemented."
The departure of Mather and Smart meant the Rangers International Football Club plc board now consists of only finance director Brian Stockbridge and Easdale's bother, James, with whom he runs the McGill's bus group.
Easdale joins them on the football club board and the statement follows rumours about the who had so far remained publicly silent.
"In recent days, there have been suggestions that I speak publicly to the media about my family's involvement with Rangers Football Club," he said.
"At this stage, I do not think getting embroiled in incessant speculation is in the best interests of Rangers.
"I have no desire to criticise any individual or group and believe the constant tit-for-tat that we have seen recently is damaging the club."
Mather and Smart resigned two days after Rangers lost a court case taken by shareholders who wanted the election of four new directors included on the agenda of
That victory for forced the AGM to be postponed.
The Murrays have been campaigning for changes to the board - and to the direction of the club - since before Mather replaced Charles Green as chief executive in April.
Public bickering between the two sides intensified this month after Rangers announced a loss of £14m in the last financial year.
Easdale's statement came as no Rangers directors were present at Glebe Park, where Ally McCoist's side faced Brechin City on league duty.