Linesman hit by flare during Aston Villa v Tottenham Hotspur game
Last updated on .From the section Aston Villa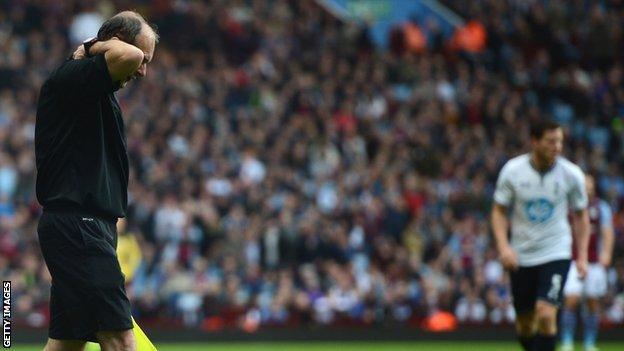 Assistant referee David Bryan was hit by a flare thrown from the Tottenham supporters' end during their match against Aston Villa at Villa Park on Sunday.
West Midlands Police have arrested two men aged 25 and 47 over the incident.
Bryan was struck on the back of the neck moments after Andros Townsend gave Spurs the lead in the first half.
He was able to continue without treatment, though smoke from the flare delayed the restart of the game.
Tottenham manager Andre Villas-Boas said: "It is not great to see. It should be avoided completely. It touched the linesman and situations like this don't have a place in football. I sincerely hope it doesn't happen again."
A Football Association spokesman said: "The FA will investigate this matter, which is unacceptable. We will await the match officials' report and will be speaking to the clubs. Such incidents highlight the dangers of pyrotechnics being used in a football stadium."
In May, a 15-year-old boy suffered lung damage from a smoke bomb thrown during Villa's game at Wigan.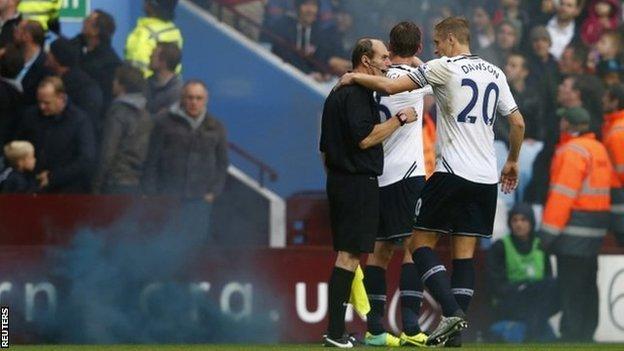 The boy needed hospital treatment, while two women, aged 22 and 24, also required attention for the effects of the device lit during the 2-2 draw.
In August, Policing Minister Damian Green warned that fans who smuggled flares and smoke bombs into games were putting the lives of other supporters at risk.
The government's warning over the devices said they could burn as hot as 1,600 degrees Celsius for as long as an hour.
In February, a 14-year-old boy was killed by a flare thrown by supporters during a South American Libertadores Cup match in Oruro, Bolivia.