Rangers: Advisor Paul Shackleton seeks more directors
Last updated on .From the section Rangers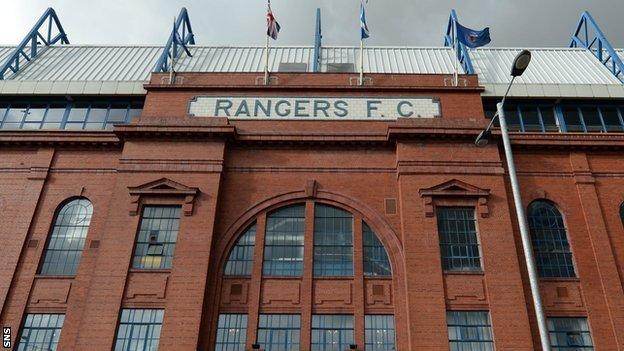 Two board members is "not suitable" to run Rangers, the football club's advisor, Paul Shackleton, admits.
And he says he is trying to find a suitable compromise between the board and disgruntled shareholders.
"I can't go into detail, but I have been speaking with shareholders," said Shackleton, from the club's nominated advisors, Daniel Stewart.
"I have been talking to everybody, trying to map out a path through this minefield."
With non-executive director Ian Hart and chairman Walter Smith having left previously, Rangers International Football Club plc now has only two board members in situ - finance director Brian Stockbridge and non-executive director James Easdale.
Those latest departures followed Rangers' being after a group of shareholders seeking changes at board level won a court decision.
The group led by former chairman Malcolm Murray and former director Paul Murray want that pair to be elected to the board along with allies Alex Wilson and Scott Murdoch.
Bus tycoon Sandy Easdale, who is on the football club board along with his brother and Stockbridge, subsequently
"We are actively trying to sort the situation out," said Shackleton. "We are doing everything we can to get it sorted. It needs stability."
Shackleton hoped to achieve that after speaking to all sides in the battle for control of the League One club.
"Once we have done that, I think we can make a decision," he said.
"There needs to be more directors at the club. Two directors are not suitable for the long-term.
"But I've not been sitting on my hands. It is a very complicated situation and we are doing what we can to sort it out.
"There is a process to go through and I'm trying to come up with ideas.
"We are very keen to get it resolved as soon as possible and I think I am making progress."
Rangers' recently released annual accounts showed an operating loss of £14m and a new date for the AGM has yet to be announced.