Patrice Evra asked to explain 'tramps' comment by French FA
Last updated on .From the section Football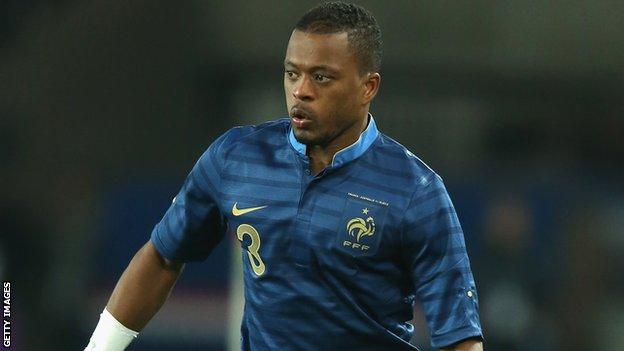 Patrice Evra has been asked by the French Football Federation to explain comments he made about four television pundits.
The Manchester United and France full-back called 1998 World Cup winner Bixente Lizarazu and three other commentators "tramps" on French TV.
Evra, 32, accused them of deliberately trying to tarnish his reputation.
"People have a good impression of me, it won't be these tramps who dirty my image," Evra said.
"There are some pundits with whom I will soon settle my differences with. They want to sell a lie to the French people that Evra is disliked. But that is not the case at all.
"I do not know what Lizarazu has against me. I was twice voted best left-back in the world, four times the best left-back in the Premier League. Him, I don't even know if he was ever voted best left-back in the world."
Lizarazu responded to Evra's comments, saying: "He blames us for dirtying his image but he is doing a great job of it himself."
The pundits had criticised an impromptu half-time talk Evra gave his international team-mates during the 2014 World Cup qualifier with Belarus in September, a game France ended up winning 4-2.
Evra made his controversial "tramps" comments after France's 3-0 World Cup qualifying win over Finland last week.
A statement from the FFF said: "Following the remarks made by Patrice Evra in an interview to Telefoot after France v Finland, president Noel Le Graet and coach Didier Deschamps, while recognising that no attack was made against the FFF, the France team, the coach or the players, have decided to ask Patrice Evra to come to explain certain statements about the broadcasters."
Evra has been in trouble with the FFF before and was banned for five international games in 2010.
It came after the French national side, which he was captain of, refused to train during that year's World Cup after striker Nicolas Anelka had been sent home for insulting coach Raymond Domenech.