Celtic boss Neil Lennon criticised by Hibs duo over comments
Last updated on .From the section Football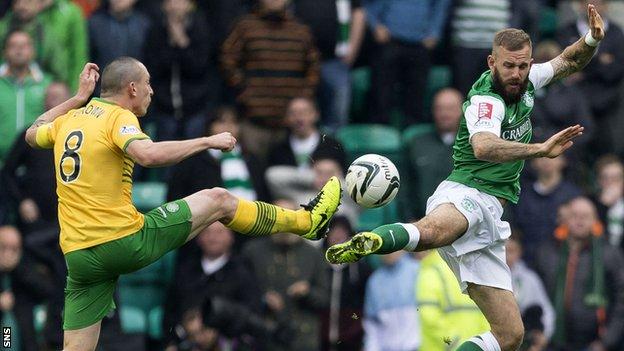 Hibernian's Rowan Vine and Michael Nelson have hit back at Celtic manager Neil Lennon on Twitter after he accused their side of strong-arm tactics.
Lennon had described Hibs tackles in as "shocking" and "reckless".
But defender Nelson posted a photograph of his own black eye and suggested the Celtic manager should "man-up".
Striker Vine apologised to Lennon after suggesting that the Celtic boss had been "smoking something else".
In his after-match media conference, Lennon had singled out a tackle by substitute Vine on debutant Darnell Fisher.
"Read Sir Neil Lennon's comments regarding tackles in yesterday's game and said my tackle was 'rugby-esque'," Vine pointed out before referring to the Celtic manager's use of a tobacco product.
"I mean, I know he likes the snus, but has he been smoking something else?
"I hardly touched the boy and there were no 'reckless' tackles in the game.
"Might get me mate Alan Shearer to send him another size 9 Umbro Speciali in the dish if he don't pipe down."
Vine went on to admit that he had never met the former England captain, nor Lennon, personally despite his reference to an incident during a Newcastle-Leicester match.
Responding to a tweet from Lennon asking "did I read that right?", Vine replied: "Was light-hearted, just thought your comment was poor, thought it was a good physical game.
"Apologies obviously if you've taken offence."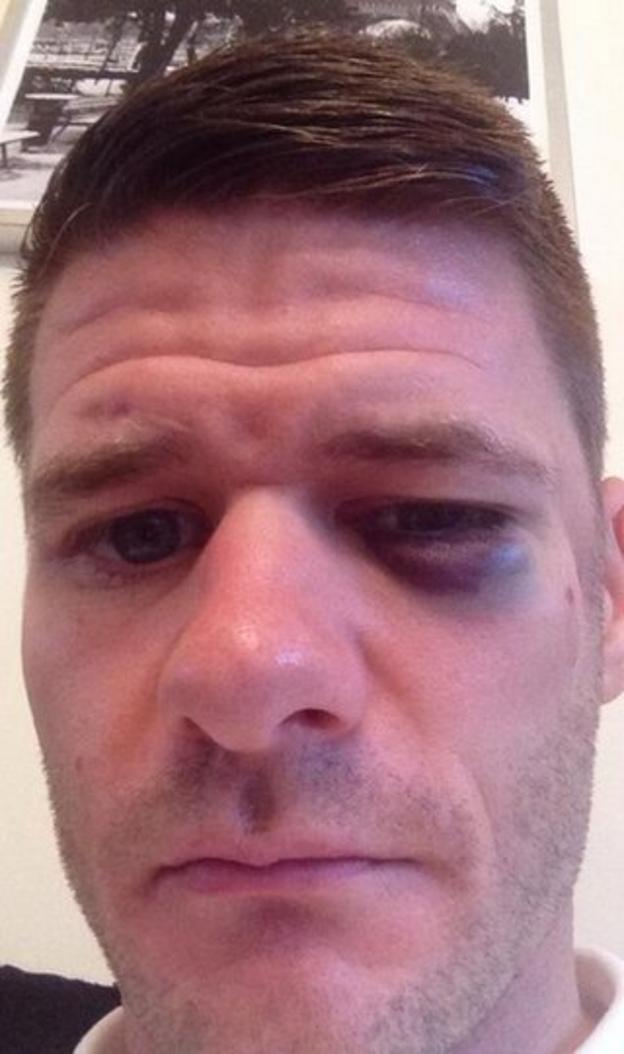 In his own tweets, Nelson revealed that his injury, picked up during a clash of heads with Amido Balde, could be more serious than mere bruising.
"Possibly a little bit more than a black eye pal," he replied to one correspondent.
Nelson - whose manager, Pat Fenlon, had urged his players "to be in Celtic's faces" - also took Lennon to task over his comments.
"Certain people crying & moaning about tackles in the paper. Don't hear me complaining about this #ManUp," he said as he linked to the photo of his injury.
"If it was a complaint, I would be saying it was a bad tackle and he meant it. It was just part of the game.
"Sometimes people just need to accept results and not go searching for excuses #thatsfootball.
"Only one player was seriously hurt by a tackle in the game #yourstruly.
"End of the day, one player badly injured from a mistimed tackle/collision & it wasn't a Celtic player."
Only Liam Craig and Ryan McGivern of Hibs were booked during a game that came four days before
"I'm all for competitive football, no-one more than myself, but seriously, they were borderline tackles," Lennon had said.
"I made my feelings pretty clear to the fourth official. I don't think it was any player target in particular, it was across the board."