Diego Costa: Brazil-born striker may break mould to play for Spain
Last updated on .From the section Football241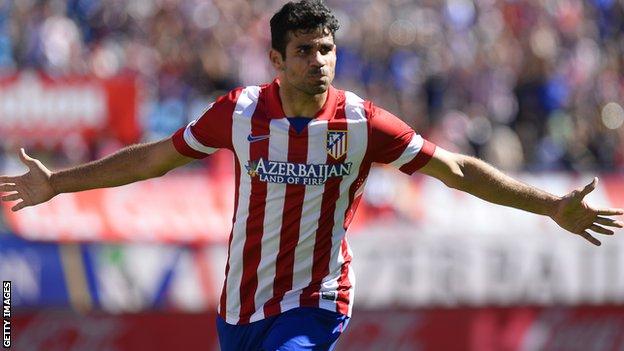 Brazil produces so many players, who end up making a living in so many countries, it is inevitable that some end up representing other national teams.
It has never been a problem. Until now.
The Diego Costa case breaks the mould. The Atletico Madrid striker is at the centre of a tug of war between the national teams of Spain and Brazil - making this the first time, at least in my recollection, that a Brazilian with real possibilities of playing for the land of his birth is seriously tempted to defect. This changes the whole tone.
Until now, when Brazilians have represented other countries there has even been a quiet sense of pride back home. It is proof of the depth of their own footballing culture if they can produce players for the likes of Croatia, Poland, Tunisia and Portugal. It helped, of course, that none of these players were remotely in contention for a place in the Brazil squad. One who got away, perhaps, was Deco, whose range of midfield passing might have added plenty to Brazil sides of the previous decade.
But he had already been snapped up by Portugal before most in Brazil had realised just how good he was; not the case in the row with Spain over Diego Costa. This time, Brazil got there first.
The Atletico Madrid man made his international debut in matches against Italy and Russia back in March. But they were friendlies. A definitive choice is only made when a player takes part in a competitive match. And Diego Costa seems inclined to throw in his lot with the Spanish.
This is highly unusual. Normally, the chance to represent the national team is the highest honour to which a Brazilian footballer can aspire. Listening to the national anthem is a magical moment, and often one of complex emotions. There is huge pride in representing the people of his nation.
But there can be some vengeance mixed in; as the camera pans down the line the player might be reflecting on the schoolteacher who wrote him off, or the girl who once snubbed him because he had no money.
Left-back Branco played for Brazil in three World Cups. Going in to the last of them, he was being singled out for harsh criticism. I once asked him how he coped with it. He shrugged it off. "It was proof that I was important," he said.
And yet Diego Costa appears prepared to reject this status and instead play for Spain, a country where he has been based for little more than six years. He may well feel a special affinity for his adopted land, have adapted well and speak the language.
But he surely cannot have the same depth of connection with Spain that he has with Brazil. So why the temptation to trade the yellow shirt for a red one?
It could be that Brazil coach Luiz Felipe Scolari has miscalculated. Back in March, he brought on Diego Costa for the last 23 minutes against Italy, and the final 13 versus the Russians. Then he cast him aside.
A cynical interpretation would be that Scolari had little intention of including the player on a long-term basis, and his main concern was to ensure the Spaniards could not have him.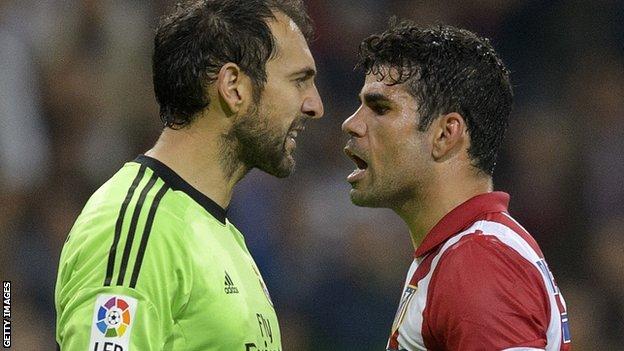 But, as we have seen, the fact these matches were only friendlies means the door is not yet closed on Costa's chances of representing another nation.
There is, as the Brazilian press have pointed out, a gross inconsistency here; friendlies are included in the calculations for the Fifa rankings, which will be key to this year's World Cup draw. And yet they are not considered sufficiently important to determine a player's sporting nationality.
And so, when the Confederations Cup squad was named and he was not included, Diego Costa may have been feeling more Spanish by the minute. Brazil had discarded him without giving him a chance to show what he could do. Perhaps Spain would treat him better. And so the tug of war begins. Spain want him, and now Brazil want him back.
Come the World Cup, it is easy to see him being useful to either national team. He offers more than the Spanish striking options - and the same is probably true of Brazil.
Centre-forwards Fred and Jo have been banging in the goals this year for Scolari's side. But Fred is injury prone (he is currently out long-term), and while Jo is a far better player than the out-of-sorts striker who flopped with Manchester City and Everton, his name does not strike great fear into the world's top defenders.
One time great hope Alexandre Pato continues to flatter to deceive; he was especially disappointing in last Tuesday's match against Zambia, when Scolari withdrew him at the interval. An attacker with the strength, skill and will to win of Diego Costa would be a useful addition to the squad.
"When I saw him in training, I wanted to die," says Diego Simeone, his club coach at Atletico Madrid and a former Argentina midfielder.
"He was unstoppable. Diego Costa transmits a strength which has a contagious effect on the rest of the group. He gives everything, but he has to learn to control himself. People say he plays at the limit - curiously, they also said that about me. He gets better every day. I love watching the diagonal runs he makes and his directness towards the opposing goal."
Simeone has asked the player to forget about the fuss surrounding his national team future. That might be because - for the moment at least - there is no chance of Diego Costa playing for Argentina.
Leave your comments in the space provided. Send questions on South American football to vickerycolumn@hotmail.com and I'll pick out a couple for next week.
From last week's postbag;
Q) As a Southampton fan, I'm curious to know what you think of Gaston Ramirez. He came to the club with a huge price tag and, while he's shown some great sparks of magic, he's never really caught alight. He makes passes that other players simply wouldn't see but then sometimes his decision-making is very poor and he wastes possession. He's also struggled for fitness a great deal and wasn't ready for the start of the Premier League season.
Are these symptoms of his relative youth or not settling into Mauricio Pochettino's system? Did Southampton pay over the odds for a player with plenty of potential but little product? How has he performed on the international stage?
Lucy Bell
A) The problems you mention have not come as a surprise at all. The talent in that left foot is obvious, and he is a player always likely to come up with the occasional great moment. But his difficulties adapting to the intensity of the English game were also very predictable - he even seemed off the pace in the Olympics.
For Uruguay he is now an impact sub, someone they will turn to in the second half when space opens up. The last time he was a genuine first choice was their Confederations Cup opener against Spain, when he was taken off at half-time after not getting a kick.
Q) You mentioned in a recent blog that Ecuador have not managed to replace centre-back Ivan Hurtado (and his partnership with Giovanny Espinoza) very effectively yet... but I was wondering if you know of any particularly gifted youngsters in the pipeline who have the potential to step up?
Nate Aspray
A) There have been a couple of false dawns. I had high hopes of Deison Mendez, from the side that won the 2007 Pan-American gold medal, but he has never really made the breakthrough at senior level. I also thought Dennys Quinonez was really impressive in the 2009 South American Under-20s, and though he has played for Ecuador at senior level, he is now a defensive midfielder and has never looked as convincing.
There's an 18-year-old defender who has recently been promoted to the senior squad, Gabriel Corozo of Liga de Quito. He's a full-back at the moment - seems to prefer the left, although he's right-footed. He looks promising, and could move infield, though he might not be tall enough to be a top central defender.