Nigerian Adamu's three-year ban from football ends
Last updated on .From the section Football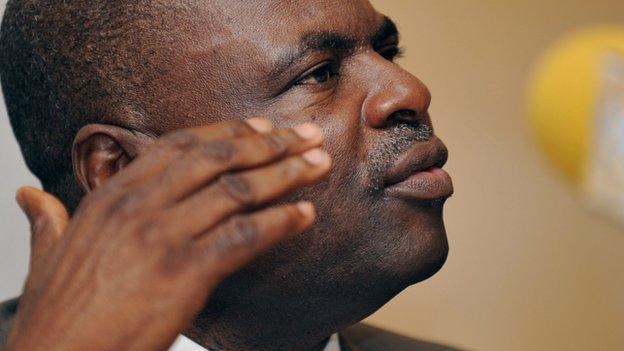 Former Fifa executive committee member Amos Adamu's three-year ban from football has expired.
The Nigerian was banned for seeking money in return for voting on the 2018 and 2022 World Cup hosting rights.
He was filmed asking undercover reporters for $800,000 and was not allowed to take part in the 2010 votes.
Adamu, who is free to work in football again after the ban ended on Sunday, said: "I can only thank God it is over. I hold no grudge against anyone."
The bribery scandal three years ago implicated Adamu and five other officials in corrupt behaviour and plunged Fifa into turmoil weeks before the votes which saw Russia chosen to host the 2018 World Cup and Qatar selected as the host for the 2022 event.
Adamu was filmed in a sting by a British newspaper, saying he wanted the money paid to him personally so he could finance football fields in Nigeria.
He was banned for three years by Fifa and failed in two appeals against his sanction.
When the Court of Arbitration for Sport rejected his second appeal and upheld his ban in 2012, a three-member panel at sport's highest legal authority said his punishment was "even relatively mild given the seriousness of the offence".
On Sunday, Adamu said in a personal statement: "My interest is not to rush back to the international federations.
"But I am delighted that my ban has expired and I am free to contribute to the development of football and sports generally in Nigeria, Africa and the world at large.
"My focus is different now and those expecting me to rush back to football administration would be disappointed.
"I want to do serious business in sports. I am now a different person. This is the new Amos Adamu - I went through some transformations which have been worthwhile. I am now a different person, wiser than before."
As well as being a member of Fifa's top decision-making executive committee, Adamu also was once considered a leading candidate to succeed long-serving Issa Hayatou as president of the Confederation of African Football.
Hayatou, from Cameroon, won what he said would be a final term in charge of African football this year.