Cardiff City: Ian Walsh fears boss Malky Mackay could still leave
Last updated on .From the section Football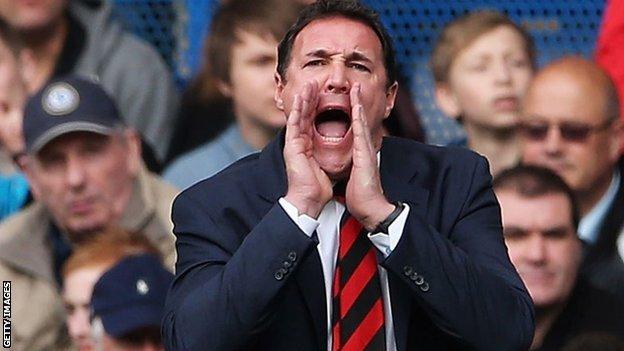 Former Cardiff City striker Ian Walsh believes manager Malky Mackay could still leave the Premier League club if results do not go his way.
But BBC reporter Pat Murphy has claimed on Radio 5 Live that Tan has tried to influence tactics during matches.
"You can't have a manager... accept that sort of attitude from people in the directors' box," said Walsh.
"It's quite laughable really to think that that could possibly be happening.
"Obviously we don't know for sure, but if it is happening or they have tried to do that [offer tactical suggestions during games] it will only go one way."
BBC Radio 5 reporter Murphy said club chief executive Simon Lim had been given notes by Tan to pass to Mackay, but that the manager had avoided taking them and that coaching staff had not passed on the information to the Scotsman.
Mackay was known to be upset at Moody's removal from the club and, in spite of the board offering him their backing, Walsh believes any interference from above could hasten Mackay's departure.
The former Wales international striker also believes Tan could benefit from an experienced advisor to guide him in football matters.
"Vincent Tan has got involved and I think without the arm to guide him at his side he seems to be like a loose cannon making decisions," added Walsh.
"Ultimately you could see in the next few games if results don't go well for Cardiff City, Malky might go and there'll be other teams who will be on the phone the same day for Malky Mackay.
"He is one of the best up and coming managers, so there will be clubs out there. If Malky Mackay leaves Cardiff City it will be someone else's gain and that I feel is very, very sad."