Bob Bradley: Egypt coach stays in charge for play-off
Last updated on .From the section Football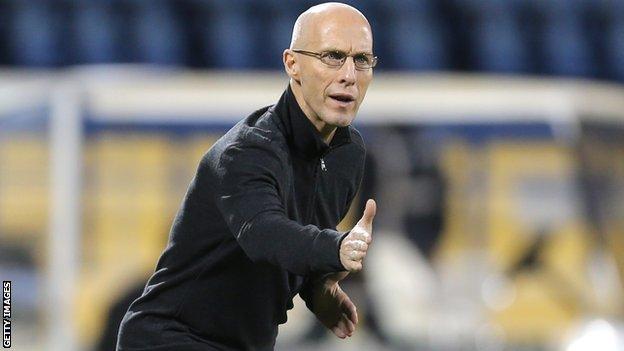 The Egyptian Football Association has announced coach Bob Bradley will stay in charge of the team for their World Cup play-off second leg against Ghana.
However, the EFA would have had to pay Bradley about $366,000 if he had been released early from his contract.
It is likely, though, that the match will be his last as Pharaohs boss.
The 55-year-old, who has been in the role for just over two years, admitted on Sunday: "If we don't manage to make a miracle (in the second leg), then I'll be finished."
It would be a sad end to Bradley's tenure - particularly after he guided the country to the top of their African qualification group with a 100% record, despite the severe disruptions to the football league in Egypt amid serious social and political unrest.
But it all went horribly wrong for Bradley and his side in Ghana last week, and it had been suggested that some fans were so angry that the coach's security could be at risk should he stay in charge for the return leg.
The match is scheduled to be played in Cairo but Ghana have asked Fifa to switch the match because of safety fears and Fifa has given the EFA until 28 October to provide security guarantees or it will seek an alternative venue.