Metsu burial takes place in Senegal
Last updated on .From the section Football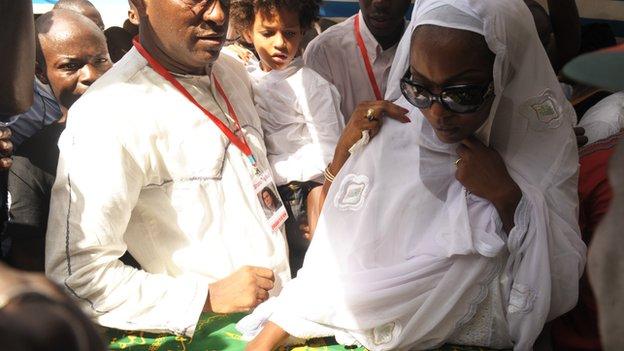 The burial of Bruno Metsu took place in Senegal on Monday, with President Macky Sall among a host of people who paid tribute to the Frenchman.
Sall described the Frenchman Metsu, who led Senegal to the 2002 World Cup quarter-finals, as "an example of humanity and virtue".
He also called him a "hero among Senegalese heroes".
"In this time of grief and sorrow for our country, I would like to express the ineffable compassion of the Senegalese nation," Sall said.
Leeds United forward El Hadji Diouf and former Bolton Wanderers midfielder Khalilou Fadiga were among a number of past and present footballers at the ceremony at a hospital in the capital.
Wellwishers waved posters of the coach and wore T-shirts bearing the message "Thank you Metsu" outside the funeral, attended by his widow Viviane Dieye Metsu (pictured )and his children, as well as leading Senegalese politicians.
"Today, a true Lion went to sleep," the president said, in a reference to Senegal's nickname, the Lions of Teranga.
Metsu's coffin was draped in the Senegalese flag and the green flag of Islam, a religion to which the coach converted several years ago, taking the name Abdou Karim Metsu.