Fulham owner Shahid Khan convinced results will improve
Last updated on .From the section Football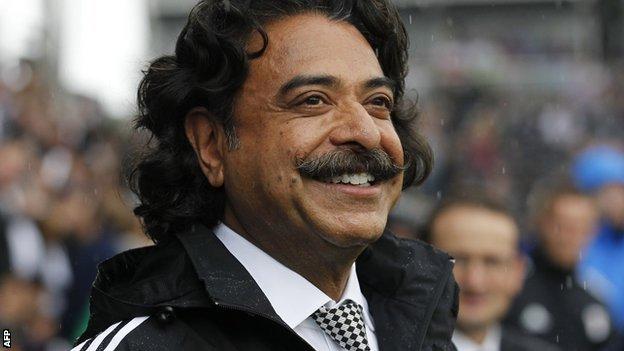 Owner Shahid Khan says he is convinced Fulham will turn their season around.
But Khan told BBC London 94.9: "We are not where anybody who is a Fulham supporter wants to be, but we've got a great team and a lot of talented players.
"They're gelling. The season is [just] starting and the best is yet to come."
Khan, who also owns NFL side Jacksonville Jaguars, bought Fulham in July, ending Mohamed Al Fayed's 16-year spell at the helm.
Al Fayed had invested heavily, transforming Fulham from a fourth-tier side into one well established in the Premier League.
And Khan says his goal is for the club to achieve long-term sustainability.
"I think there should be a business model where we're able to invest in players of a certain level and sustain and grow for a long time," he said.
"I'd like Fulham to be sustainable. Fulham, even past my time, shouldn't be dependent on someone's generosity."
The billionaire car-parts entrepreneur, 62, is also keen to raise the Jaguars' profile and build a fan-base for them in Britain.
Khan explained: "We [Jaguars] are one of the very small city clubs. For us to get a competitive advantage we must increase our fan-base.
"We need more fans. We've got great fans in Jacksonville - very passionate - just not enough of them.
"The NFL is very powerful in the US and I think the growth opportunities overseas, in London, couldn't be more natural for us."
The Jaguars are playing San Francisco 49ers at Wembley on Sunday.