Truro City boss Steve Massey frustrated by FA Trophy loss
Last updated on .From the section Football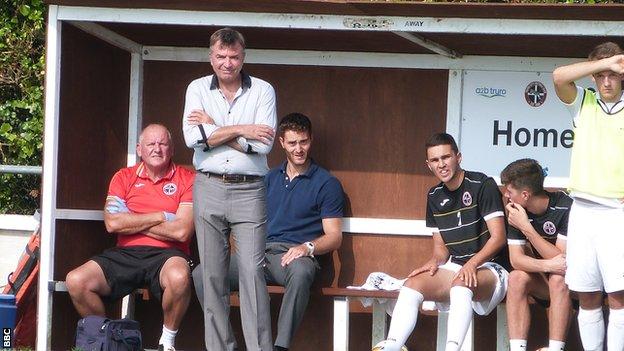 Truro City manager Steve Massey was left hugely frustrated by his side's injury-time exit from the FA Trophy.
The White Tigers had led 2-1 but a last-gasp winner from Tiverton's Sam Malsom ended Truro's interest in the FA Trophy in the first qualifying round.
"We threw away a cup tie with some really poor defending in the last minute of the game," Massey told BBC Radio Cornwall.
"We should still be in the hat but five or six minutes of madness undid us."
Truro had trailed 1-0 at the break but had gradually established a foothold in the game before edging themselves into a deserved lead.
"We couldn't get going but we realised we had much more in the tank," Massey continued.
"The positive was that it was only 1-0 - we didn't really threaten them until we played our wide guys higher up the park in the second half and then we totally dominated. It looked like there was a replay for us at worst.
"I don't want it to sound like I'm making excuses again but the way their equaliser ended up in the net just shows the way things have been going for us.
"It was a hit with power but it was going out for a throw-in - then it hit Paul Kendall and could have gone anywhere but goes in the net."
But Massey admitted his players had only themselves to blame for the manner in which they conceded Tiverton's winner.
"Our inability to actually clear the ball on two, possibly three times has cost us - we couldn't do it and they ended up scrambling it in," he said.
"There's been games when we've been beaten and I've taken positives and still felt upbeat but I feel like we've thrown away a game of football in the last minute."