Kyle Critchell: Former Gareth Bale team-mate came close to death
By Nabil Hassan and Laurence Herdman
BBC Sport
Last updated on .From the section Conference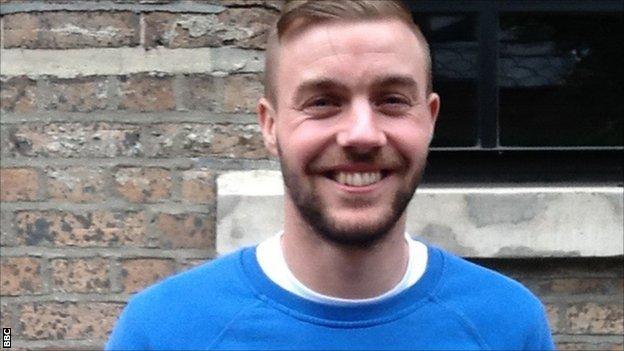 As Gareth Bale was putting pen to paper on his £85m world record transfer to Real Madrid, his former Southampton youth team-mate Kyle Critchell was battling to save his own life.
Three months ago Critchell, 26, contracted severe sepsis, something that went undiagnosed for two weeks.
His condition was so severe his fiancee had to decide to either put him on life support or allow him to breathe alone.
"The doctors have said it's a miracle," Critchell told BBC Radio Solent.
Defender Critchell played alongside Bale when Saints won the Premier League academy title in 2006 and was also part of the same youth team as Theo Walcott, Dexter Blackstock and Martin Cranie.
The Wales Under-21 and Under-17 international went on to play for Torquay, Chesterfield, Wrexham, York, Dorchester and was then at Weymouth when disaster struck.
"It started about 13 or 14 weeks ago," he said.
"I had a slight problem with my back, for the next two weeks I was bed-bound.
"I saw lots of doctors and took lots of pain relief. Eventually I got rushed into hospital as an emergency at Dorset County Hospital."
He spent two weeks in a high dependency unit and five weeks on the Purbeck Ward at the hospital.
"While there my partner was told I had sepsis, it was life-threatening. It is an infection that spreads throughout the body and attacked my vital organs," Critchell explained.
"It was touch and go for the next five weeks and it was a very traumatic time for me and my family.
"For those five weeks I was not coherent, I was bed-bound, was in so much pain and I could hardly keep my eyes open."
Sepsis claims 37,000 lives a year and Critchell admits he came close to being one of them.
"When I first got taken in the doctors and consultant believed I was dying. They asked my partner to call all my family," he said.
"After two days I was highly sedated, to make me as comfortable as they could. They were told this news and in terms of being alive the doctors and consultants didn't think it was possible.
"Fortunately the decisions made on my behalf were very good ones and the doctors found antibiotics that fought the infection and saved my life."
Critchell's fiancee Kate Adorian had the unenviable decision of choosing whether to put him on life support or allow him to continue breathing unaided. She had 10 minutes to make that decision, but ultimately chose the right one.
"I was only breathing at 5% but her decision was still to make me do my own breathing. She knows I am a fighter and it was a decision that saved my life," he added.
"I am a fighter and the last thing I would want is for a machine to control me."
Having now recovered from the illness, Critchell is now getting his life back together as he continues his degree and finally starts his teaching job at Dorchester Middle School.
On Saturday, he and his good friend - 23-year-old personal trainer and former Dorchester goalkeeper Regan Coward - will be walking from the Recreation Ground in Dorchester to Weymouth seafront, along with 20 others to raise awareness of sepsis.
He has also not ruled out a return to football and admits it is love for the beautiful game that kept him alive.
"I feel great, I'm back on my feet after four different operations to remove the infection and life is moving forward," he added.
"It's about getting back to normality and to listening to my body. Without that competitive edge I would not be here.
"Do I come back? It is a question I can only answer in five or six months when I've been able to do some exercise. I love football, if you love something that much do you really want to lose it?"
And as Bale continues his ascent to superstar status, Critchell says he feels no jealousy towards the man he once kept out of the Southampton youth team.
"Technically you could always tell he was head and shoulders above everyone else," Critchell said.
"But you could tell it would take him longer to develop. Sometimes being able to make a career out of football comes down to skill, your ability to adapt and unfortunately luck plays a part also and I didn't have much of that.
"I don't look back, life throws different things at you and I think you just have to take them on the chin and move forward. I am very happy with my life now and where I am and I am very proud to say at one stage I played with Gareth Bale."