Georgios Samaras confident in Celtic squad to face Ajax
Last updated on .From the section Football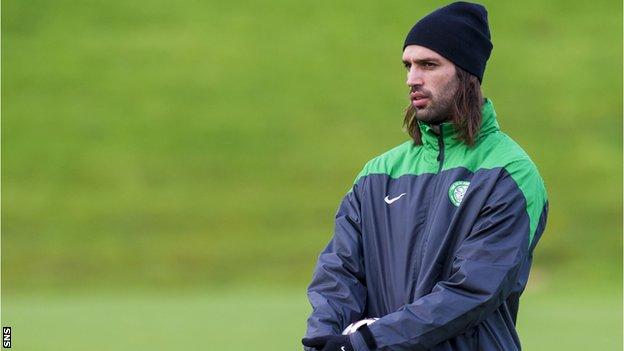 Georgios Samaras is confident Celtic have enough depth in the side to cope with Ajax in the Champions League.
"Broony (Brown) is our leader, our captain, and it's a big blow for us," said Samaras.
"But I think we have the strength and the quality in our squad to replace him."
The double header against Ajax could decide Celtic's chances of progressing in the Champions League after Neil Lennon's side lost their opening two matches against AC Milan and Barcelona.
However, the Greece striker insists the loss of Commons will be absorbed by the squad and they will tackle the two encounters with the Dutch champions in the same way they have faced the other two clubs in the group.
"Kris is the same as Broony," said Samaras. "He is a key player for us, he creates a lot for the strikers.
"But we have the quality in the squad to replace anyone in the team, even though it's a big blow for us.
"Both of the games against Ajax, home and away, are very important for us and Ajax. It's a really crucial moment for us.
"They are important games, but we don't feel any extra pressure. We are at home and we will try to play our own way and try to win.
"We want to win this game. Every time we go on the pitch, we try to win the game."
Samara, who spent four years in Holland with Heerenveen, also said he expects the Dutch visitors to play the same kind of fast, free-flowing football they have played for decades.
"They have a typical Dutch system, they try to pass the ball, they play good attacking football and they try to win the game," said Samaras.
"That's what Ajax have done all these years and that's what they will do.
"They won't change their philosophy because they are playing against us here at Celtic Park.
"I played in Holland and I know exactly the way they play in Dutch football. I don't think they are going to change anything."
On Celtic's ailing campaign so far, Samaras added: "I think we lost both of the games through really small details.
"Sometimes small details make the difference in games.
"We made some mistakes that cost us and hopefully in the next games we will be more focused.
"We will try to be more competitive and, when we have chances, put them in the back of the net."