Grassroots football receives new £102m fund
Last updated on .From the section Football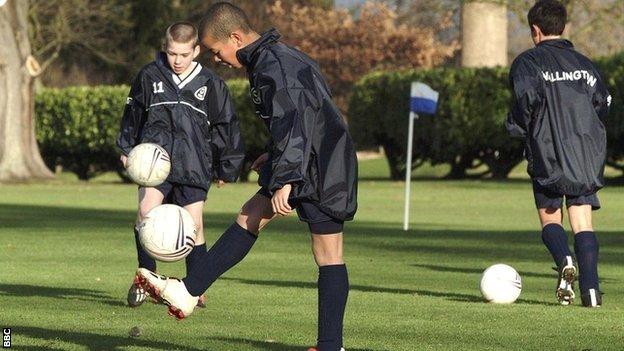 The Premier League, UK government and Football Association have committed to a new £102m fund to be spent improving grassroots football facilities.
The Premier League & the FA Facilities Fund will provide financial support in the three years from January 2014.
Sports Minister Helen Grant said: "Sport has such a power to change lives, and this will make a positive contribution to many communities."
The scheme aims to develop improved pitches and more quality coaching.
It will be managed by the Football Foundation on behalf of the funding partners, and is designed to raise the standard of English-born footballers by improving the experience of playing the game at the lowest levels. The government's role in the organisation is via Sport England.
The fresh investment will help continue the development of new or refurbished community sports facilities.
State-of-the-art facilities in the most deprived areas will also be targeted through the professional clubs' community trusts' outreach work.
"Premier League clubs are committed to playing an active role as hubs of their communities, particularly in the area of sports participation, from the grassroots level through to their academies," Premier League chief executive Richard Scudamore said.
"By committing £36m over the three years to developing more and better public sports sites, we hope to continue that regeneration."
The Football Foundation is the United Kingdom's largest sports charity.
It was set up in 2000, and has awarded 9,600 grants worth £412m. More than £560m of additional partnership funding has also been provided to the grassroots game.
In 2012, 741,801 people played sport at Foundation sites, with 63,702 sporting qualifications also gained at the new facilities.
"The funding that the FA has invested through the Football Foundation has dramatically improved local football facilities up and down the country and is a key part of the FA's four-year National Game Strategy, a £200m investment into the grassroots game," FA general secretary Alex Horne said.
"These enhanced facilities increase opportunities for young people to become involved in football, whether as players or coaches, and it is this work which feeds into helping to produce the next generation of English football talent."
The announcement follows the creation of the FA commission, which will consider how to increase the number of England-qualified players appearing for the country's top clubs.