Nelson Vivas: Ex-Arsenal defender resigns after attacking Quilmes fan
Last updated on .From the section Football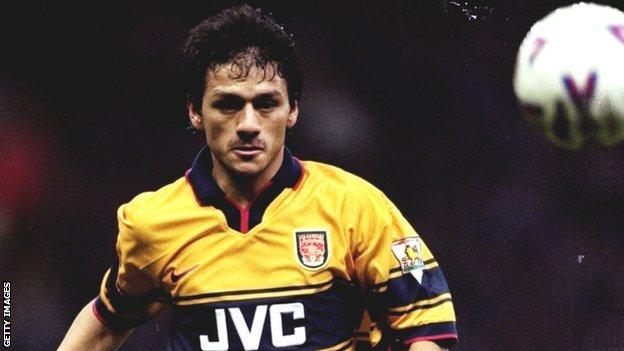 Former Arsenal defender Nelson Vivas has resigned as manager of Argentine club Quilmes after attacking one of his team's supporters in the stands.
Vivas, 44, hit a fan three times after a 1-1 draw at home to Atletico Rafaela in Argentina's Primera Division.
A club member said the fan had been insulting Vivas.
Vivas, who spent three years at Arsenal under Arsene Wenger, said: "I'm not a violent person but I realise that's not the image a trainer should give."
After the incident on Monday, club president Anibal Fernandez said: "He came to my office and handed in his resignation.
"He knows he put his foot in it and realises the situation is uncomfortable for the team and regrets his actions."
Former Argentina international Vivas took charge of Quilmes this season, his first job in management.
Vivas leaves Quilmes in 16th place in Primera Division, with 14 points from 12 matches.