Sir Alex Ferguson takes centre stage once again at book launch

By Phil McNulty
Chief football writer
Last updated on .From the section Football419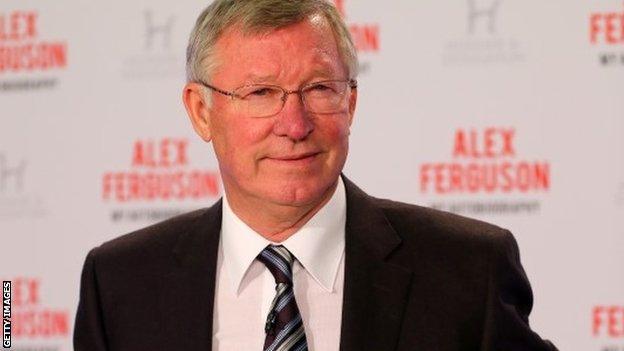 As David Moyes sat at Old Trafford attempting to shine a light on Manchester United's future, Sir Alex Ferguson was centre stage in London delivering incendiary revelations about the past.
Ferguson's "My Autobiography" was released by publisher Hodder and Stoughton amid first great secrecy then fanfare as he reflected on a 26-year career at Old Trafford that ended with the Premier League championship and retirement in May.
His successor Moyes, still struggling to find his feet after Ferguson's departure, was in the shadows discussing United's Champions League group stage meeting with Real Sociedad on Wednesday.
The timing was not perfect - indeed Moyes might have had to announce his resignation with immediate effect to snatch some of the spotlight from Ferguson as he looked back in candour, settling some old scores amid fascinating insight into what drove this extraordinary football man.
When Moyes has time to sit back and flick through its pages, the book might also be a manual on how to deal with the unwieldy monster that is Manchester United - illustrated in how Ferguson dealt with various crises surrounding Wayne Rooney, David Beckham and the bitter breakdown of his almost parental relationship with former captain Roy Keane.
For Moyes and United, even though Ferguson will not have intended this, the book provides an unwelcome, scene-stealing sideshow at a time when the new manager is attempting to create his own footprint on Old Trafford.
It would not have mattered so much had Moyes made a flying start, but reading a catalogue of successes unlikely to be achieved again at United makes more uncomfortable reading when viewed from eighth place in the Premier League, almost uncharted territory for the club in recent years.
The current incumbent was sanguine about the timing and contents of the book but it contains a revelation of immediate relevance when Ferguson discusses events at the end of last season that left Rooney wanting to leave United and Moyes having to handle the fallout.
One of the main bones of contention felt by Rooney was the suggestion he had been misrepresented over demands to leave Old Trafford at the end of last season. Ferguson simply repeats his story from that time.
He writes: "He came into my office the day after we won the league and asked away. He wasn't happy with being left out for some games and subbed in others. His agent Paul Stretford phoned [then chief executive] David Gill with the same message."
Moyes refused to entertain Chelsea's offers for Rooney in the summer and has been rewarded with performances that have illuminated some of the gloom United's fans have felt at their uncertain start to this season.
With Ferguson still a United director and a figure of such significance, Rooney's reaction to these repeated claims will be watched with interest - but the former manager was never going to hold back.
During Ferguson's time at Old Trafford, Beckham and Keane were among the greats but even that status did not spare them when Ferguson felt the time had come to move them along.
And Moyes may find some valuable material among the pages chronicling Ferguson's ruthlessness as he faces major decisions of his own to renew a squad in need of repair.
He might want to frame this quote as he takes on this huge task of succession: "It doesn't matter whether it's Alex Ferguson or Pete the plumber. The authority is what counts. You cannot have a player taking over the dressing room."
Beckham was a personality with a worldwide profile but he was never going to win the battle with Ferguson once he felt the player believed he had outstripped United.
Ferguson knew Beckham had to go in the aftermath of an FA Cup defeat against Arsenal at Old Trafford in 2003, which included Beckham sustaining a cut when a boot accidentally kicked by his manager struck the superstar.
The over-arching message that comes from the book on the art of management is that no-one - whoever they are - can take a single ounce of authority away from the manager. This will read as a lesson, not simply to Moyes it should be said, for all managers.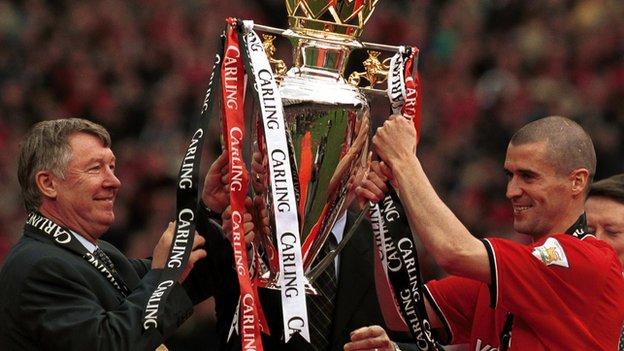 He reflects on the Beckham incident and writes: "It was in those days I told the board David had to go. My message would have been familiar to board members who knew me. The minute a Manchester United player thought he was bigger than the manager, he had to go. I used to say, 'The moment the manager loses his authority, you don't have a club. The players will be running it, and then you're in trouble.'"
Few players had a closer personal relationship with Ferguson than Keane, regarded as the master's voice on the pitch, but the curtain came down once he felt the fierce competitive fire that once inspired his team-mates had transformed itself into a negative influence.
In a flash Keane was gone, off to Celtic and a low-key end of a magnificent playing career.
Old habits die hard and Ferguson could not resist some digs in the ribs for arch-rivals Liverpool.
As expected, there are no kind words for old adversary Rafael Benitez. Ferguson revels in eventually winning the psychological and footballing battle with the Spaniard, who publicly criticised his influence in his infamous "facts" rant before United went on to win the title in 2009.
He believes Liverpool are currently "eight players short of becoming genuine title contenders". It is an observation that will be greeted with interest at Anfield as they currently stand ahead of United in the Premier League table.
More surprising, however, is Ferguson's verdict that Liverpool captain Steven Gerrard is not a "top, top player" - although he admits he considered signing the England player in 2005 and says he was the only midfielder who could hurt United as he surged at the heart of their defence.
So many words, so many issues. As ever when Ferguson speaks or writes, there will be those who love it or hate it - but few will ignore it.
And back at Old Trafford, you suspect Ferguson's successor Moyes will be scanning the book for vital clues on how to follow the hardest act in football.