Sir Alex Ferguson book: The best bits from Beckham to Ronaldo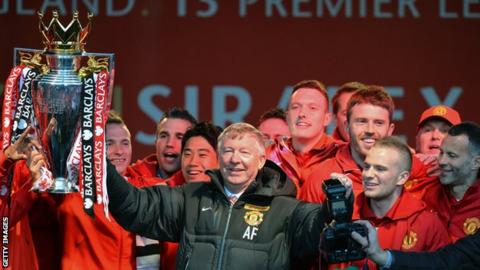 Sir Alex Ferguson's eagerly anticipated autobiography provides unprecedented insight into one of football's most successful and iconic managers.
The 71-year-old retired last summer after 26 years as manager of Manchester United, having guided the club to 13 Premier League titles, five FA Cups, four League Cups and two Champions League crowns.
In 'Alex Ferguson: My Autobiography', released on Thursday, the Scot, who was succeeded by David Moyes, addresses a number of subjects.
Ferguson on David Beckham
Ferguson's falling-out with David Beckham followed United's FA Cup fifth-round defeat to Arsenal in 2003.
The United boss was critical of the midfielder's performance - but Beckham did not react well to being singled out.
"As usual, with David at that time, he was dismissive of my criticism," wrote Ferguson.
"He was around 12 feet from me. David swore. I moved towards him, and as I approached I kicked a boot. It hit him right above the eye. He rose to have a go at me and the players stopped him. 'Sit down,' I said. 'You've let your team down. You can argue as much as you like.'
"I called him in the next day to go through the video and he still would not accept his mistake.
"The next day, the story was in the press. It was in those days that I told the board David had to go."
Ferguson on Cristiano Ronaldo
Ferguson says Ronaldo was the "most gifted player" he managed, adding: "He surpassed all the other great ones I coached at United."
The winger spent six years at Old Trafford before he moved to Real Madrid in 2009 for a world-record £80m transfer fee.
He might have moved to Real a year earlier, but Ferguson had been unhappy with the Spanish club's public courting of the player, who had joined United from Sporting Lisbon in a £12m deal in 2003.
The Scot was so irate with Real president Ramon Calderon that he told Ronaldo he would rather "shoot" him than "sell" him to Real at that stage, before promising the player he could leave Old Trafford the following summer if the right deal came along.
Ferguson on Rafael Benitez
Ferguson had several run-ins with Rafael Benitez while the Spaniard was manager of Liverpool.
In his book, Ferguson explained that the chief reason for the fall-out was because Benitez chose to "turn our rivalry personal".
Ferguson said: "Once you made it personal, you had no chance. Benitez was striving for trophies while also taking me on. That was unwise."
Ferguson on Wayne Rooney
Ferguson is a big admirer of Rooney's natural ability but had concerns about his fitness, particularly during his last season in charge.
"I felt he was struggling to get by people and had lost some of his old thrust," wrote Ferguson, who signed Rooney from Everton in 2004.
"As time wore on, I felt he struggled more and more to do it for 90 minutes."
Finally, Ferguson added that Rooney came to see him after United had won the Premier League title last season and asked to leave the club.
Ferguson explained: "I left him to discuss his future with David Moyes, hoping to see many more great performances from him at Old Trafford."
Ferguson on Roy Keane
Perhaps the biggest criticism in Ferguson's book is reserved for former United midfielder Roy Keane.
Ferguson wrote the following: "The hardest part of Roy's body is his tongue. He has the most savage tongue you can imagine.
"He can debilitate the most confident person in the world in seconds. He was an intimidating, ferocious individual."