Kalaba, Sunzu & Sinkala pardoned by Zambian government
By Kennedy Gondwe
BBC Sport, Lusaka
Last updated on .From the section Football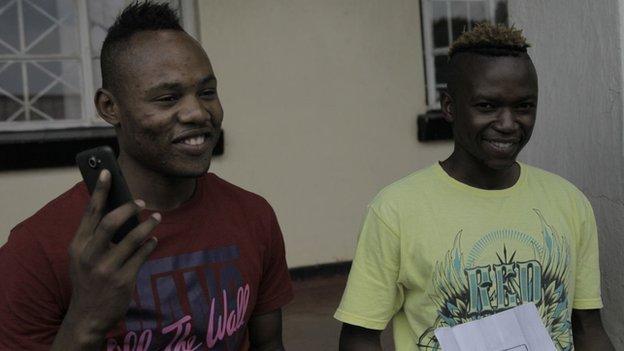 The Zambian government has pardoned Rainford Kalaba, Stoppila Sunzu and Nathan Sinkala, bringing to an end an ugly row which erupted after they missed an international friendly.
Zambia confiscated the trio's passports after they failed to travel from Zambia to Beijing for an international friendly against Brazil in China last week and immigration officials alleged they instead returned in secret to their club TP Mazembe in the Democratic Republic of Congo.
But on Wednesday, Kalaba and Sunzu had their documents returned to them, while Sinkala needs only to collect his from the immigration offices in Ndola.
Zambia's home affairs minister Edgar Lungu, whose ministry overseas the department of immigration, told BBC Sport: "We have pardoned them.
"Our officers have been instructed to allow them to get back to their club and continue with their careers. There won't be any further questioning because the matter is closed.
"In future, we will engage their club and the players' managers in Zambia to avoid a recurrence of what happened."
While all three players insisted they had done nothing wrong, Zambia issued warrants for their arrest last week and on Friday the players were turned back at the border as they attempted to return to their club.
The trio then endured a four-hour long interrogation on Friday evening and the questioning continued for a similar amount of time on Monday before they were asked to return on Wednesday.
After Lungu's intervention on Tuesday, a relieved Kalaba told BBC Sport: "I am very glad that everything has gone well. I don't want to say much. I just want to get back to work."
He added that he did not want to discuss his future with the national team.
Sunzu was also reluctant to talk about his future with Zambia, saying only: "I am happy that we are free at last. I will think about my international career when I get back to Congo."
Derrick Mulenga, one of the two lawyers that represented the trio, said the immigration officials are satisfied the players never went back to Congo, hence the release of their passports.
TP Mazembe president Moise Katumbi paid tribute to the Zambian home affairs minister for intervening in the matter days after sports minister Chishimba Kambwili labelled the players unpatriotic.
"I am delighted this matter has come to and end and we look forward to welcoming the players," said Katumbi.
Because of their interrogation in Zambia, the three players last weekend missed TP Mazembe's 1-0 win in their Confederation Cup semi-final second leg against Stade Malien of Mali - a victory that saw them complete a 3-1 aggregate victory.
The Congo giants will now be pleased their trio will return for the two-legged final against CS Sfaxien next month.