Sir Alex Ferguson book: Roy Keane questions ex-boss's loyalty
Last updated on .From the section Football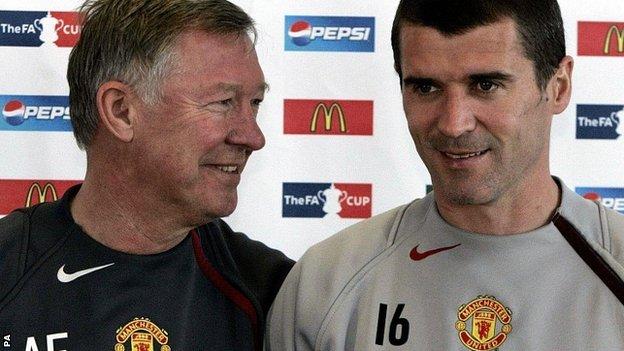 Roy Keane has questioned Sir Alex Ferguson's loyalty after comments made in the former Manchester United manager's autobiography.
Former United captain Keane was strongly criticised in the book but told ITV: "I'm OK, quite relaxed.
"I remember having conversations about loyalty when I was at the club. I don't think he knows the meaning of the word.
"To constantly criticise other players that brought him success… I won't be losing any sleep over it."
In his book, Ferguson claimed Irishman Keane, who played a key role in the club's success during his 12-year stay at Old Trafford, became an increasingly negative influence.
The Scot wrote about Keane: "The hardest part of Roy's body is his tongue. He has the most savage tongue you can imagine.
"He can debilitate the most confident person in the world in seconds. He was an intimidating, ferocious individual."
Former Republic of Ireland midfielder Keane, 42, won seven Premier League titles, four FA Cups and the Champions League during his time at Old Trafford between 1993 and 2005.
Ferguson also criticised other former United players including David Beckham, Ruud van Nistelrooy and Owen Hargreaves, as well as current Red Devils striker Wayne Rooney, in his new book, 'Alex Ferguson: My Autobiography'.
Keane, who released his own autobiography in 2002, says such harsh judgements are unfair given the success and trophies he and his fellow players brought the club under Ferguson.
"I just don't think the manager needs to do it. I'm not sure how many books he's written now," Keane said.
"But he has to draw the line eventually and say, 'Listen, these players have all been top servants to Manchester United'. A lot of these players helped the manager win lots of trophies.
"Imagine if we never won a trophy what he would have said. We brought success to the club, we gave it everything we had when we were there.
"But, as I said, it's just part of modern life now. People like to do books and criticise their ex-players."
Keane left United in November 2005 after 12 years at the club and joined Celtic in the January 2006 transfer window before retiring at the end of that season on medical advice.
He then began a five-year managerial career at Sunderland and Ipswich Town, and has been an ITV football analyst since being sacked by Ipswich in January 2011.
Ferguson's former assistant Mike Phelan told BBC Radio 5 live: "I think it was a knee-jerk reaction to the article in the book which was probably a bit presumptuous. Roy has his moments, as does Sir Alex so I think there is a small little feud going on between the two of them.
"Having been there for so long, and lived through it all, it doesn't surprise me at all, but it is a book and there has to be certain things in a book which do upset people. But I think you have to take it at face value.
"It's his recollections, his history at Man United and along the way after so long, you're going to upset some football players and some people in the media as well. It's par for the course when a book comes out."