How Arsenal can learn from defeat by Borussia Dortmund

By Phil McNulty
Chief football writer
Last updated on .From the section Football769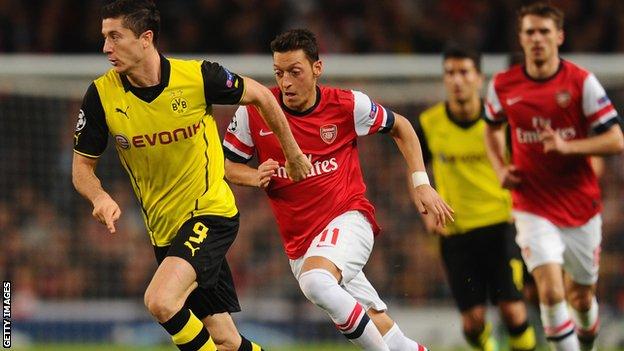 To quote some of the words of the old Beatles song, not so long ago quite a few were wondering whether Arsenal would still need Arsene Wenger when he was 64.
Arsenal were without a trophy in eight years, many of the natives were rowdy and restless and plenty were wondering out loud whether the great alchemist of his Highbury years had lost the touch forever.
And yet here he was celebrating his 64th birthday riding a fresh wave of optimism at Emirates Stadium as Arsenal, top of the Premier League, confronted last season's losing finalists Borussia Dortmund after opening their Champions League campaign with two wins.
Sadly for Wenger, there was no perfect present as Arsenal had holes - not a lot but enough - picked in their resurgence by Jurgen Klopp's Dortmund.
The pessimists would say Arsenal had failed their first major test of the season. The far more rational, and realistic view, is that Wenger's team were unfortunate to lose 2-1 to one of Europe's best teams thanks to a late goal by Robert Lewandowski, when he could just have easily been taking first use of the shower for an elbow on Laurent Koscielny.
Wenger is normally the great supporter of his players but here he was arguably the harshest judge as he accused Arsenal of being "naïve" and "not being mature enough" when most agreed many aspects of the display were worthy of more credit.
Arsenal and Wenger need not be hard on themselves. This was the performance of a developing team, one that will suffer setbacks along the way.
There are lessons to be learned, though, and on a rain-lashed night in north London two of the most sobering involved Wenger's most influential summer signings.
Mathieu Flamini was missing after suffering concussion against Norwich City on Saturday. Also missing was his ability to shield the back four, take up crucial positions and also add a ruthless air to proceedings that might have prevented two rather soft Dortmund goals.
The first from Henrikh Mkhitaryan, the man on which Liverpool would have loved to have spent £25m in the summer, was the result of uncharacteristic ball concession by Aaron Ramsey on the edge of the area, and the 82nd minute winner from Lewandowski - while a finish of some expertise - was aided by slack marking in the build-up and the final execution.
And then you come to Mesut Ozil.
Ozil made some headlines before kick-off when it was revealed in Sir Alex Ferguson's lavishly-publicised "My Autobiography" that Wayne Rooney, during a period of discontent at Manchester United, got a flea in his ear from his manager and told to mind his own business when he suggested Ferguson should sign the Germany midfield man.
Arsenal's £42.4m signing from Real Madrid has spent this season providing strong evidence that Rooney certainly knows a good player when he sees one - and that he may have been well served offering the same advice to Ferguson's successor David Moyes.
On this night, Ozil was thwarted by a Bundesliga team and a German coach in Klopp who know him well. Give Ozil room and you invite trouble but here, for the most part, he was confined to small spaces and his influence was limited.
It is not a case of "stop Ozil and you stop Arsenal" as they have too many creators for that. It is a reality, though, that if you can subdue this graceful operator then you remove one of Wenger's most potent weapons.
Ozil was only seen in flashes but one pass set up substitute Santi Cazorla for a shot that glanced off the woodwork at 1-1.
There are also ongoing concerns over Jack Wilshere's fitness as he limped off to apply an ice pack to his ankle only 57 minutes, the result of an awkward first-half landing.
The result leaves Group F in the balance with Arsenal still top on the same six points as Dortmund and Napoli, but with visit to both places to come.
And yet, despite the loss, there should still be plenty to please Wenger despite his somewhat uncharitable final analysis.
For 20 minutes Dortmund were the pressing machine Klopp so desires, relentlessly hunting Arsenal in possession and denying them any room to play the passing game that has served them so well in the Premier League.
Dortmund are on an elevated level from most opponents Arsenal will face domestically, and it showed - but there was great resilience to set alongside the style and Olivier Giroud's equaliser just before half-time was the reward for hanging in throughout a torrid opening before imposing their own influence.
Even in the second half, which ended so despondently, Arsenal more than matched Dortmund but the lack of street wisdom Wenger noted let them down.
Arsenal now have it tough to get out of the Champions League's most taxing group, but this is not a result that should dent confidence. They deserved a point.
Wenger's birthday may not have been a joyous occasion - but as he indulged in some belated celebrations he will should still have found aspects of Arsenal's game to give satisfaction.