Clarke Carlisle: FA commission 'fundamentally flawed'
Last updated on .From the section Football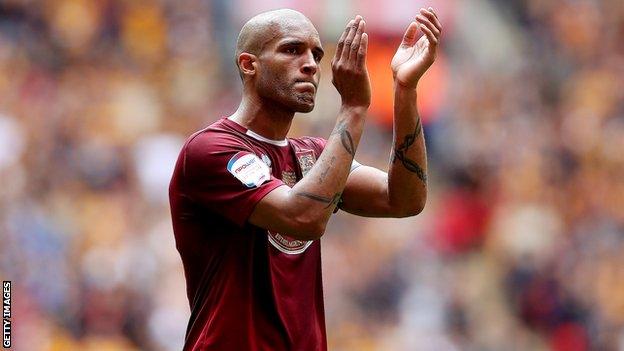 Clarke Carlisle says the FA commission set up to improve the fortunes of the England national team is "fundamentally flawed" because of its "elite" nature.
The make-up of the 10-man panel has been criticised for lacking diversity.
The outgoing Professional Footballers' Association chairman fears minority areas will not be addressed fully.
"It's a brilliant idea and it has the potential to do good, but with the current constitution of the commission, it is fundamentally flawed," he said.
"These are all guys that we know. These are all guys that have been doing it for 20 years. Where's the new ideas? Where's the new blood? And where's the representation for sectors of the industry that aren't elite?"
Greg Dyke, the chairman of the Football Association, after Heather Rabbatts - the FA's only female board member -
All 10 members are male, and the panel was all-white until on Sunday.
Dyke revealed that he had attempted to bring in ethnic minority representation by including Carlisle, who played more than 500 professional games for nine clubs before
Instead, it was decided that Hartlepool's Ritchie Humphreys - Carlisle's successor as PFA chairman - should be the representative for current players.
Also involved are FA vice-chairman Roger Burden, former England boss Glenn Hoddle, ex-England defender Danny Mills, League Managers' Association chairman Howard Wilkinson, Football League chairman Greg Clarke and Crewe director of football Dario Gradi.
In September, Dyke set England targets of reaching the Euro 2020 semi-finals and winning the World Cup in 2022.
And the group will examine how to increase the number of England-qualified players appearing for the country's top clubs.
On Tuesday, it was announced that the Premier League, the UK government and the FA have to be spent improving grassroots football facilities.
Carlisle is a supporter of the commission's aims, but is worried that issues concerning minority sections of the sport, such as increasing the number of young British Asians playing football and expanding the women's game, may not be tackled fully without the inclusion of experts in those areas.
Speaking to BBC Radio Lancashire, the 34-year-old continued: "I think the representation of this commission should be far fewer people that we know. It should be people who have been working in these areas of football that we need to address, who have the professional knowledge and understanding."
When asked if he would like to be included on the panel, Carlisle added: "There is nothing that I could contribute more than what Ritchie Humphreys will.
"In the context of the future of England's national team, I would contribute far less than Rio Ferdinand will because he's been there for many years.
"They're two current players on there and I don't feel you need any more than that. You need that relevant player experience, but you also need to cover every other facet of the game."