Cardiff v Swansea: First top-flight meeting 'not for the faint-hearted'

By John Hartson
Former Arsenal, West Ham, Celtic and Wales striker
Last updated on .From the section Football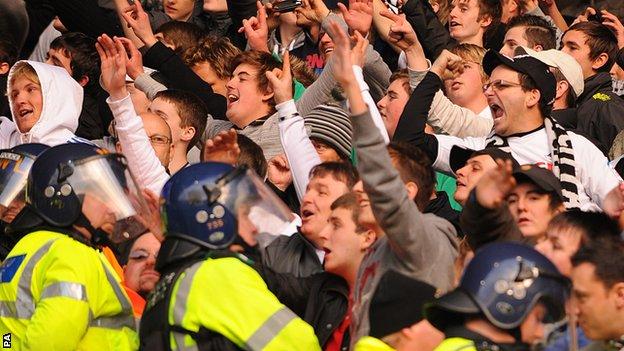 A game for your fans; a game for your city; a game to keep your cool; a game for the record books.
Sunday's south Wales derby between Cardiff and Swansea will be the first top-flight meeting in their 101-year-old rivalry, and there is no doubt it will be played in a ferocious atmosphere.
Growing up in Swansea as a Swansea fan, the intense rivalry with Cardiff was always around. It transcends football.
The history of the two cities, which are 40 miles apart, pits them up against each other in rugby, politics and even industry, it is a permanent clash that is loved in south Wales.
Why? Well everyone likes to have a hero and everyone likes to have a villain.
It's like the feeling between Manchester and Liverpool. Do you think Steven Gerrard ever wants Manchester United to win? It's the same between people from Swansea and Cardiff.
Because of a few incidents at games when I was growing up there was a long period in which away fans were banned from these fixtures. That was a shame but something had to be done; it was out of control at times.
There is no love lost between the two sets of supporters, and make no mistake about it, this game is not for the faint-hearted. There will be intimidating chanting, a lot of passion and hatred between the fans, but I hope it stays at that.
There will be a lot of genuine football supporters at the game so it is important that it isn't spoiled, as it can spill over into real bitterness and anger.
I hope the fans make it a showcase event in south Wales - it's a really good opportunity to show what having two Welsh clubs in the Premier League means to the country.
Handling derby day

I played in 22 Old Firm derbies as a Celtic player, I've played for Arsenal against Tottenham, Wales against England, Norwich against Ipswich and I would love to have played in this one. But I know that big derbies can have a real impact on some players.
When I played for Celtic, if we lost a derby game I didn't want to take my head off the pillow. I wouldn't want to leave the house and face the public because even dropping the kids off at school I would get loads of attention from both sets of supporters.
The Rangers fans would be loving it and all the Celtic fans would corner me and ask what went wrong. On the other hand, if we beat Rangers I couldn't get out of bed quickly enough.
There is nothing worse than losing a game of this magnitude. Defeat makes the training ground very flat for the next week.
This game isn't just for you and your league status. It's for the guys on the building sites, it's for the guys down the pub and the guys who work together with rival fans.
This one game can keep them going for months.
The players need to keep their discipline, there's no point going down to 10 men for the sake of a wild lunge. It will be hard to stay cool but that's the challenge. Who wants the ball? Who will be hiding when the going gets tough?
There aren't many local boys in either camp but the foreign players are very intelligent, they will be under no illusions about this game. You can't get away from it.
At Celtic we may not have had many lads from Glasgow but you would have to be a fool to not understand that the games against Rangers were what it was all about.
Swansea have the likes of Ashley Williams, Leon Britton and Angel Rangel who have been there a long time and know the score, while Cardiff have Craig Bellamy who will be key.
Bellamy has had a wonderful career and has achieved so much in helping Cardiff into the Premier League but knowing him like I do there will be no respite. He will want to drive them on and all the players at the club will look up to him.
What's going on at Cardiff?
Cardiff owner Vincent Tan has come in and saved the club from millions of pounds of debt. He deserves great credit for that but he has made some decisions which have disgruntled the fans.
Changing the Bluebirds' shirts to red was never going to be popular and now he has replaced a key part of manager Malky Mackay's backroom staff with a lad from Kazakhstan who was doing some painting and decorating around the ground, although he appears to have visa issues now.
The club could do without it. The players will be aware of it but as a professional, as long as you are being paid at the end of the month and train hard to improve then you should crack on.
When owners try to interfere too much in team affairs, though, it can spill over and get out of hand. I played under managers like Harry Redknapp, Martin O'Neill and Arsene Wenger who ran the whole football club. The buck stopped with them and they knew who they wanted in and out, but things have changed.
Mackay has done a great job, the fans love him and he should be allowed to get on with his work.
My relationship with Cardiff

I have family who live in Cardiff who I will be speaking to after the game, no doubt!
As a well-known Swansea fan, I always had a tough time playing at Cardiff throughout my career but I have to say, when I had cancer they were fantastic to me.
I have put a charity golf day on in Cardiff for the past two years and plenty of their fans have come to support me.
I had letters from plenty of them, wishing me well, and when Cardiff played Celtic in a friendly there was a banner passed around the ground in my honour.
That meant a lot to me - but at the end of the day I'm a Jack and that will never change!
The timing was never right for me to play for Swansea, which is a shame. I would have loved to have pulled on the white jersey for my hometown.
I couldn't possibly have played for Cardiff - that could never have happened - but the bottom line is that if I was born in Cardiff, I'd be a Cardiff fan wouldn't I?
That's how it should be. You can't help where you are born.
Both sets of fans will be fired up, and I just hope it will be a cracking game that will be remembered for all the right reasons.
I'll be watching the game from the studio for Match of the Day 2, trying to be impartial. Wish me luck!