Fans' groups positive after Rangers blueprint meeting
Last updated on .From the section Football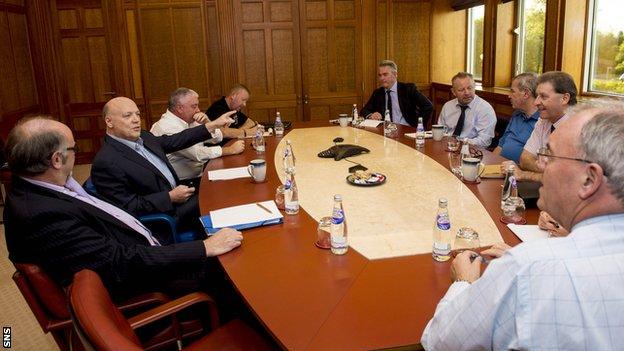 Jim McColl and Paul Murray impressed fans' representatives in a meeting to outline their plans for Rangers.
Clyde Blowers chairman McColl and former Ibrox director Murray addressed the three main supporters groups, along with ex-chairman Malcom Murray.
The pair are leading a group of shareholders trying to force changes to the Scottish League One club's board.
"I think the majority of fans are behind this," said Rangers Supporters Assembly president Andy Kerr.
"It was a very successful meeting. We were quite happy with what we heard from Jim McColl and Paul Murray and the key now is to communicate that information."
Kerr said his organisation would release details of the meeting on Friday in a Question and Answer format.
The Rangers Supporters Trust and Rangers Supporters Association were also represented at the two-and-a-half-hour gathering in East Kilbride, with McColl and Murray leaving without comment to the media.
This month, the McColl-Murray group took court action that forced Rangers to delay their planned annual meeting.
The group of shareholders had been unhappy that the club had not included their request for Murray, former chairman Murray and allies Alex Wilson and Scott Murdoch to be put up for election to the board.
In August, Rangers told the stock exchange that McColl and Murray were behind a bid to have an extraordinary meeting called to discuss removing then chief executive Craig Mather, director Bryan Smart and finance director Brian Stockbridge from the board, replacing them with Murray and Frank Blin.
Mather and Smart resigned their posts last week - following the departure of non-executive director Ian Hart - leaving just Stockbridge and James Easdale in charge of the club's board.
The club say they are working "as a matter of priority" to appoint new directors ahead of the new AGM, which must take place before 31 December.