Partick Thistle boss Alan Archibald does not like Mondays
Last updated on .From the section Football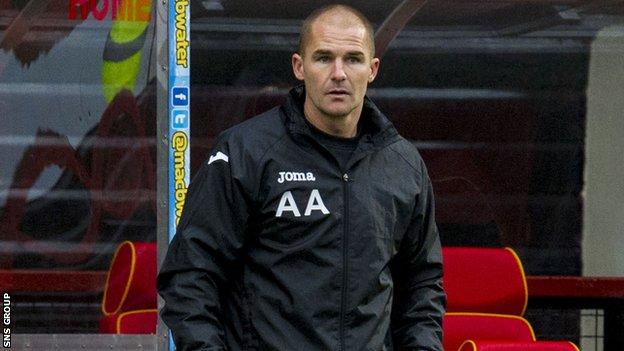 Partick Thistle manager Alan Archibald is all in favour of Friday football but thinks Mondays are a bad choice for Scottish Premiership fixtures.
"Fridays have been successful for us," said Archibald. "The fans seem to enjoy it. We have had good turn-outs and we've put in some good performances.
"I much prefer it to the Monday nights. I can't get my head round the Mondays at all.
"We're going up to Aberdeen a week on Monday, which is a strange one."
Thistle opened the campaign with a draw at home to Dundee United on a Friday and shared the spoils with Hearts in August on another entertaining Firhill Friday.
"We were a bit sceptical at first but we tried it in the First Division and the crowds were up," Archibald said of the Friday games.
"It's different. On a Friday people will finish their work and say 'I think I'll go to the game' whereas sometimes they will go out on Friday night and they can't be bothered going on Saturday."
October began with a frustrating home defeat to Hibs on a Monday and Archibald questions the wisdom of scheduling a trip to Aberdeen for his team after the weekend.
"Having a Glasgow club going up there, it will be hard for our fans to get to that one," he added on BBC Radio Scotland's Sportsound.
The Jags are enjoying their return to the top flight after an absence of nine years and go into Sunday's meeting with leaders Celtic level on points with sixth-placed Dundee United.
"It's been good but it could have been better," Archibald said of his side's first quarter. "It's strange to say that, given our lofty position.
"We've done well in most games and let ourselves down just a couple of times
"We could have been six points better off for sure from our home games."
Thistle are yet to win at home in the league but racked up their third success on the road with a 2-1 victory at Inverness CT last Sunday.
"We've got a lot of pace and we can break on teams if we are sitting in," he explained.
"But we have been creating chances at home. If we weren't creating those chances, I'd be a lot more concerned.
"I got asked maybe 25 times during the close season 'what's the difference in going up to the Premiership?' I said scoring goals. It's a lot harder, scoring in this league."
Archibald has earned plaudits for his team's passing style and has no plans to alter his approach.
However, he is keeping an eye out for new players to freshen up his squad in January.
"Our fans don't want to watch the ball going from back to front and chasing it into channels," said the 35-year-old.
"Obviously, in some games you need to battle and we can do that as well. We are working on getting more bodies in the box and getting crosses in from nearer the byeline.
"At the moment, I don't think we really need another striker. We just need goals from all over the pitch to help out.
"But we are looking because if something happens to the two out-and-out strikers we have, then we will have a problem."