Manchester City's Yaya Toure wants action on racist chants
Last updated on .From the section Man City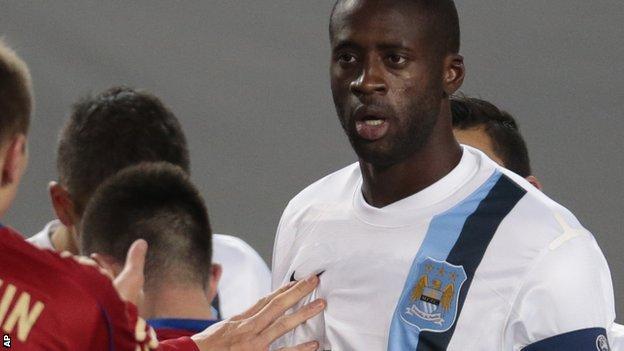 Manchester City midfielder Yaya Toure is "furious" and wants Uefa to act on racist chanting after claiming he was targeted by home fans during his side's 2-1 victory at CSKA Moscow.
The Ivory Coast international said he told referee Ovidiu Hategan about the chants as City came from behind to win the Champions League Group D tie.
City, for whom Sergio Aguero scored twice, will make a complaint to Uefa.
Toure said: "I'm not just disappointed, I'm furious."
The 30-year-old captained City in the absence of injured defender Vincent Kompany.
He added: "I'm very, very disappointed about what those fans have done. I think Uefa has to take action because players with the same colour of skin will always be in the same position.
"For me, as captain, I was wearing an armband which said 'no to racism' and I was totally disappointed.
"I told the referee. It was unbelievable and very sad."
Asked what action he would like the European governing body to take, Toure said: "Maybe they could ban the stadium, I don't know, for a couple of years or a couple of months.
"We have to be as strong as possible otherwise they will continue like that. Too much is too much. We have to stop it now."
In May, Uefa announced that for racist incidents involving spectators, a partial stadium closure for the first offence and a full stadium closure for a second, coupled with a fine of 50,000 euros (£42,800), would be applied.
Toure added: "It's not only in Eastern Europe and I have some friends who have had problems, too.
"It's stupid. It just happens in football. As an African player, it is always sad when you hear something like that."
City boss Manuel Pellegrini also called for action and said: "I think it's a pity that anyone would do such stupid things. I hope that they have heard the right measures to stop all those things, so it's a pity for Yaya, it's a pity for the city."
Kompany did not play because of a thigh injury, but in a tweet after the game wrote: "Racist chants again in Moscow today. We've all said enough. Uefa, the Russian government and CSKA, all eyes are on you now. #StopRacism."
Fifa vice-president Jim Boyce said he was "absolutely appalled".
"I have always been very outspoken about any form of racism in sport," he told Radio 5 live.
"Fifa and Uefa are absolutely united in making sure these events will become a thing of the past. I have always said fining clubs is not a solution to this problem because they can't stop some of these idiots.
"The new rules say sanctions will be imposed.
"It's got to be eradicated and the only way to do that is to take serious action against the people who do it.
"Don't allow them to watch football matches and then perhaps they'll stop when they realise they won't get into a ground."
With Russia staging the 2018 World Cup, Boyce added that the authorities needed to tackle racism in the country as a matter of urgency.
"The Russian federation has got to assure - along with the Russian government - that these incidents are put to bed because it's happening too often," he said.
Piara Powar, who heads the organisation Football Against Racism in Europe, said: "It's taken a long time but we are seeing some movement on the sanctions side.
"In terms of education, I don't know how long it's going to take, to educate fans like we've seen at CSKA. We need governments to intervene."
Speaking to 5 live he added: "The key thing here is Yaya Toure did what he should do: approach the referee and tell him about it.
"That means that technically the Uefa process is triggered. The referee will have to mention it to the Uefa delegate at the match, he will put it in his report and Uefa will then have to charge CSKA."