Wayne Rooney's 'new lease of life' under Man Utd boss Moyes
Last updated on .From the section Champions League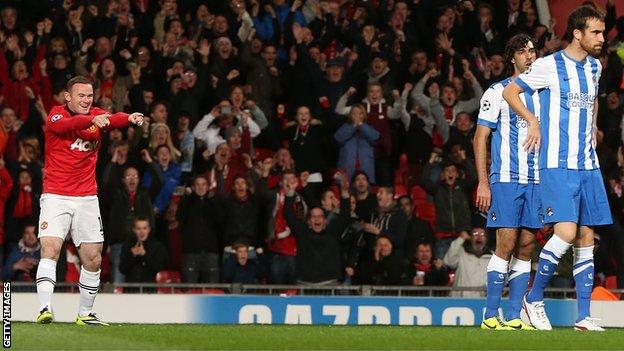 Manchester United forward Wayne Rooney says he has been given a "new lease of life" under manager David Moyes.
The England international looked set to leave United after falling out with Sir Alex Ferguson, who has since retired.
Ferguson wrote in his new autobiography that Rooney lost his "old thrust" in the Scot's final season in charge because he was not fit enough.
"That's the past, I'm looking to the future," said Rooney after the 1-0 win over Real Sociedad.
Rooney, who celebrates his 28th birthday on Thursday, was impressive as United overcame the Spanish side on Wednesday to take another step towards the Champions League last 16.
Sociedad defender Inigo Martinez put the ball into his own net while trying to clear a Rooney effort that had come back off a post.
Rooney, speaking for the first time since the contents of Ferguson's autobiography were revealed, said he had not seen his former manager since he retired at the end of the season.
Moyes has endured an indifferent start since taking over as manager from Ferguson, the former Everton boss winning just three of his first eight Premier League games in charge.
But Rooney says he is "happy" and enjoying life under his former Goodison Park boss
"The new coach that has come in [and has given me] a new lease of life," he said. "I'm really enjoy working under David Moyes."
Rooney is also glad that Ferguson has made it clear in his latest book that he never formally asked for a transfer at the end of last season.
"He has come back and corrected the story that I put a transfer request in," said Rooney. "He's gone back and proven that I didn't.
Rooney's statement is a boost for Moyes, whose relationship with the striker has endured some difficult moments.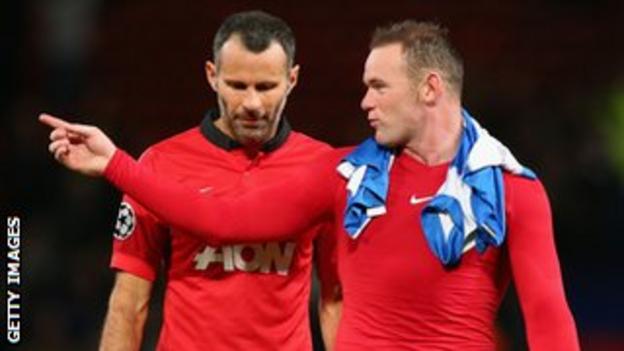 Moyes was the manager at Everton when Rooney was sold to Manchester United in 2004 for £25m and sued Rooney after objecting to striker's account of the sale in his autobiography, Wayne Rooney - My Story So Far.
Rooney was forced to make a formal apology and pay damages after Moyes won his case in 2008.
The pair were also at loggerheads when Rooney claimed he was "angered and confused" by suggestions in the summer by Moyes that he was viewed as back-up to Robin van Persie at United.
United have seven points from three Group A games in the Champions League after victory over Real Sociedad.
Rooney said: "I thought we played some great football. We should have won the game by three, four or five, but I'm happy we got the win, that's most important thing.
"We defended well, a clean sheet is always pleasing. We created a lot of chances and on another day we will take them and win the game more comfortably."
Asked if he felt he was in his prime on the eve of his 28th birthday, he responded: "I do, I feel good, feel fit."