Manchester United 1-0 Real Sociedad: 'Job done' for Moyes

By Phil McNulty
Chief football writer
Last updated on .From the section Man Utd930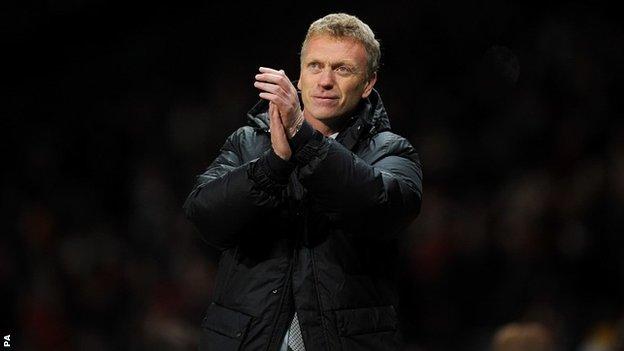 David Moyes may not get many pages for his autobiography from a routine Champions League win against Real Sociedad - but it still makes one of the more pleasing chapters in the early part of his own Manchester United story.
European nights at Old Trafford have become traditional reference points for United's progress and have arguably assumed even greater significance now as Moyes, a novice in this environment, embarks on the job of succeeding Sir Alex Ferguson.
And yet, as Ferguson dominated the agenda with the release of his autobiography, Moyes was reduced to part of the background scenery in this crucial week
Moyes and his players looked like they welcomed the opportunity to turn the spotlight away from United's past under Ferguson and back to the present after an unsatisfactory start to the season.
It was mission accomplished with the 1-0 win over Sociedad secured courtesy of Inigo Martinez's comical second-minute own goal, sliced in hopelessly following a moment of magic from man-of-the-match Wayne Rooney.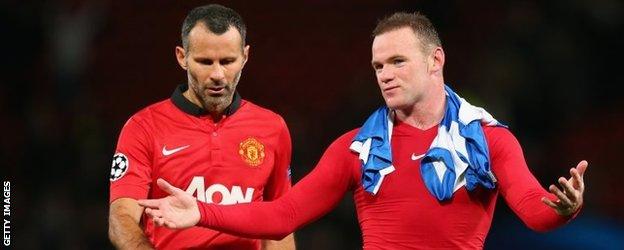 United were not fluent, despite positive words about the performance from Rooney and Moyes, and the manager will be concerned by defending that will be punished by better Champions League opponents than Sociedad.
Victory will have been Moyes's only priority - and each win will be gratefully received as he tries to shape his own identity away from an Old Trafford predecessor who has his own stand,statue,road, and has added in a book that appeared with uncomfortable timing amid a blizzard of headlines revisiting old battles and great glories.
If Moyes has a glory of his own in his short Old Trafford career, it is the manner in which he has handled Rooney, a player left discontented by the fracture in his relationship with Ferguson.
Moyes inherited a player who wanted to leave and courted by Chelsea. The new manager steadfastly refused to sell, joining forces with the club's hierarchy to stare down Rooney and his representatives before reaping the benefit in a series of outstanding performances.
And so it was again here, with Rooney the inspiration behind all of United's best work and shifting attention away from Ferguson's criticism of him in his book by revealing a new lease of life at Old Trafford under Moyes.
While Roy Keane - another victim from the pages of Ferguson's book - answered with his typically acid tongue, Rooney delivered his response with the ball at his feet - and how eloquent it was.
It was all done in front of Ferguson, finally reduced to the role of spectator in this turbulent week, watching the great talent he appeared to have lost faith in by the time he retired at the conclusion of last season's Premier League title-winning season.
Another plus for Moyes came in the shape of a player he has ignored for the large part of his formative days at Old Trafford, Shinji Kagawa.
The previously sidelined midfielder was industrious and effective. He will struggle to find a favoured forward role when Robin van Persie - rested here because of toe and groin injuries - is fit to resume with Rooney.
But if the Japan international needed to show Moyes that he can be of service in the months ahead, he did so here.
Moyes wrote in his programme notes that he wants United's supporters to replicate the "incredibly intimidating" atmosphere of other Champions League stadia - this on the night Old Trafford gave a first trial to its 'singing section'.
It is an idea somewhat out of place on English grounds and hardly transformed Old Trafford into the sort of bear pit requested by Moyes, but those fans housed in the section did sing so it must be assumed this counts as success.
Moyes would never issue a dissenting word against his mentor Ferguson, the man who hand-picked him for this colossal job. But he will surely have been relieved to return to the main business of football after the inconvenient timing of Ferguson's book release.
The sooner Moyes can move away from the shadow cast by his predecessor - and make no mistake, it is still all around him in bricks and mortar as well as in terms of aura - the better.
And the best way he can do it by dealing in the game's most valuable currency - winning football matches. Ferguson himself would have wished his return to the spotlight could have come at a time when United were nearer the top of the Premier League, not after an undistinguished start.
Moyes, however, continues to make solid progress in Europe and United will surely feel they are now in prime position to move into the knockout phase.
There will be tougher questions to answer than those posed by Sociedad. Moyes will know such generosity in front of goal will not go unpunished the further United move into the Champions League.
This is for the future. The objective here was to beat Sociedad, create headlines about Manchester United's football present rather than the cult of personalities from the past and offer Old Trafford a warmer memory than the unfulfilling draw here against Southampton on Saturday.
On those accounts, Moyes was right to call this "job done".