Hearts: Major shareholder UBIG has court ruling delayed
Last updated on .From the section Football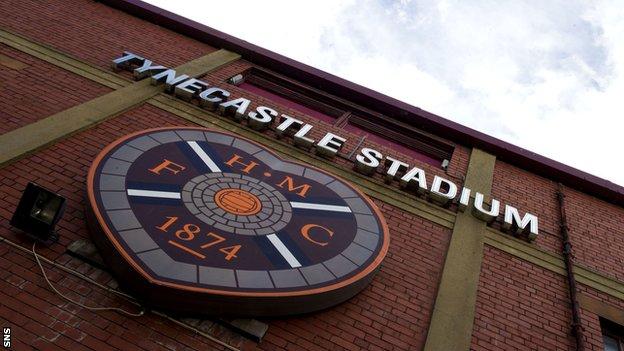 A Lithuanian court hearing likely to have an impact on the future of Hearts has been delayed until Monday.
The court is expected to announce a liquidator for the club's main stakeholder, UBIG, who are 50% shareholders in Hearts.
However, the liquidator - if appointed - will not be made public for a further 30 days.
The administration-hit Scottish Premiership club cannot be sold until the situation with UBIG is resolved.
"It's disappointing that the hearing has been delayed but it's only a short delay until Monday," said Bryan Jackson of Hearts' administrators, BDO.
"It doesn't change anything in terms of what we are going to do. We will just carry on regardless.
"When the hearing happens, it happens. It's not going to stop us from starting the process of taking the club out of administration."
Hearts manager Gary Locke had been hopeful an announcement would be made on Thursday.
"It would be a massive step forward for the football club if those types of things can get themselves sorted out," he said.
The Tynecastle club entered administration in June and, the following month, it was reported total claims by creditors amounted to £28.4m.
A 15-point penalty was incurred for suffering an insolvency event.
Fans group the Foundation of Hearts are the preferred bidder for the club.
On Tuesday, BDO were able to begin the process of putting together a company voluntary arrangement offer to creditors.
That came after administrators of Ukio Bankas, who control about 30% of the club's shares, gave their approval for the process to begin.
"A lot of things went quiet on that front so it gives us a wee bit of positive news," added Locke.
"I'd imagine everyone associated with Heart of Midlothian is desperate to see us come out of administration and the sooner the better."