Racist chants: Man City referee should be banned - Kick It Out
Last updated on .From the section Football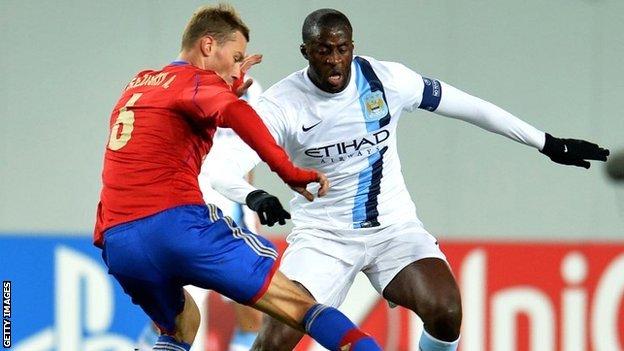 The referee for Manchester City's Champions League match against CSKA Moscow should not officiate again after failing to deal with racist abuse, says Kick It Out chairman Lord Ouseley.
Ouseley told the BBC that Hategan had "failed to do his duty".
However, CSKA said they were "surprised and disappointed" by Toure's claims.
A club statement read: "Having carefully studied the video of the game, we found no racist insults from fans of CSKA.
"In many occasions, especially during attacks on our goal, fans booed and whistled to put pressure on rival players, but regardless of their race.
"In particular, this happened with Alvaro Negredo and Edin Dzeko. Why the Ivorian midfielder took it as all being directed at him is not clear."
It added CSKA had never been sanctioned for racist abuse while competing in Europe and that the club will "continue to fight" racism.
Under guidelines issued in 2009 by Uefa, which governs European football, referees have the power to tackle racist chanting from supporters in a number of ways.
As a first step, they can stop a match and ask for warnings to be made over the public address system.
The second step is to suspend a match for a short time. Then, if the abuse continues, a match can be abandoned.
Since Toure reported the abuse to the referee during the game and spoke to him afterwards, the incident will be included in the official's report, which will be sent to Uefa on Thursday. Manchester City have also lodged a formal complaint with Uefa.
Uefa's communications director David Farrelly said: "We are waiting for the reports from the referee and the match delegate as they are our eyes and ears at the match."
Romania official Hategan, a Fifa referee since 2008, was also in charge when Lazio fans were found guilty of racist behaviour towards Tottenham players in the Europa League last season.
FIFPro, the global union for professional footballers, said it was "disappointed" match officials failed to implement agreed protocol following the Toure incident.
FIFPro European president Bobby Barnes said: "The player, having done what was asked of him to notify the referee, quite rightly expected that the referee would go speak with the safety officer.
"The protocol agreed is that the safety officer should make a stadium announcement warning the fans that if the chants do not desist that the game will be stopped."
Ouseley, who heads Kick It Out, one of the leading anti-discrimination bodies in England, added the latest incident would also test new sanctions issued by Uefa.
In May, Uefa announced that in the case of racist incidents involving spectators a partial stadium closure would be applied for the first offence and a full stadium closure for a second, coupled with a fine of 50,000 euros (£42,800).
Three clubs have been forced to close their stadiums this season, while five have been subjected to partial stadium closures.
Lazio had their punishment - for racist behaviour from supporters in a match against Legia Warsaw last month - reduced on appeal.
The Italian club were ordered to play two games behind closed doors last season for similar reasons.
Ouseley said if players are not adequately protected, more of them could start walking off the pitch during a game, echoing what former AC Milan player Kevin Prince-Boateng did last season.
The Ghana international forced the abandonment of a friendly match between his side and an Italian lower division team after claiming he had been racially abused.
"This has gone on for too long," added Ouseley. "Uefa and Fifa take us for mugs. That can't go on any longer."
Culture, Media and Sport Secretary Maria Miller told BBC Sport: "Any form of racism in sport is absolutely unacceptable and I think any allegation of this sort needs to be investigated in full and Uefa needs to take it very seriously indeed.
"When countries like Russia are going to be very shortly hosting the World Cup, it's important we know a tough line is going to be taken."
Russia is due to host the World Cup in 2018.
Organisers of that tournament issued their own statement in response to Toure's allegations.
It read: "It is worth restating that all stakeholders in Russian Football have made it clear that there is absolutely no place for any type of racial discrimination or abuse in our game.
"What is clear is that football is uniquely positioned to educate fans in combating this global issue.
"The 2018 Fifa World Cup in Russia, in particular, can act as a catalyst to positively change the mindsets and behaviour across all involved in Russian Football over the next four years."