Nicky Adams hopes for Crawley Town momentum
Last updated on .From the section Crawley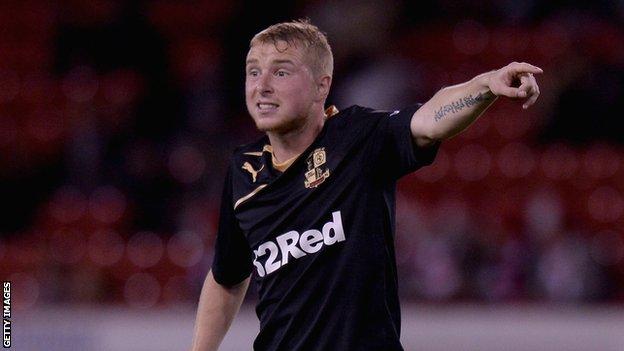 Crawley Town midfielder Nicky Adams is confident the side can continue to punch above their weight in League One.
"To a certain extent we have set high standards, but we are Crawley Town and a lot smaller than other clubs,"
"We know what we have got to do and the gaffer (Richie Barker) has told us to put it behind us. It is a minor setback," Adams, 27, told BBC Sussex.
The West Sussex side have lost just three league games this season and are only three points below the play-off places, with a game in hand.
Crawley were a non-league club as recently as 2010-11 but Adams insisted they were capable of challenging for a place in the top six at the end of the season.
"This league is like a mini-Championship, if you look at the size of some of the teams," he said.
"Look at Bristol City - they are a massive club and they are bottom of the league. Sheffield United are down in the bottom half.
"You are not going to turn teams over every week. It is not going to happen. We'll see where we are about Christmas and then we'll get a gauge of where we are from there.
"Yeovil were nowhere last year and then they put a run together and snuck in the play-offs. Look where they are now [in the Championship]. Anything is possible."
Adams hopes Crawley can put the midweek loss to Port Vale behind them quickly.
"It's disappointing, but it's one defeat in eight in the league. If we can go on another eight games and only lose one, we will be at the right end of the table," he said.
"Momentum is key and I think we have learned from last year. We had a good start, but then had a barren patch when we were playing well, but couldn't win for 10 games.
"We are a better squad [now] and hopefully we can kick on again and go on another run.
"You are not going to win every game, but if you put six or seven-game runs together over the course of the season then you will be where you want to be."