CSKA Moscow: Uefa opens racist chants case after Man City match
Last updated on .From the section Football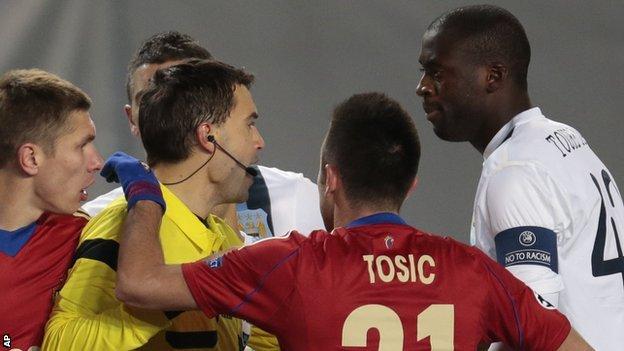 Uefa has opened disciplinary proceedings against CSKA Moscow for the "racist behaviour of their fans" during their home Champions League match against Manchester City.
The European governing body says the case will be dealt with by its disciplinary board on 30 October.
CSKA Moscow consider the racism allegations to be "unfounded".
Manchester City said on Thursday that they had submitted a formal written complaint to Uefa, which is also looking into the setting off of fireworks by home supporters during the match in the Russian capital.
In May, Uefa announced that in the case of racist incidents involving spectators, a partial stadium closure would be applied for the first offence and a full stadium closure for a second, coupled with a fine of 50,000 euros (£42,800).
CSKA's next home game in the Champions League is against defending champions Bayern Munich on 27 November. The Russian side then visit Manchester City on 5 November.
Ivory Coast international Toure said he was "furious" and reported the chants to the referee during the game and afterwards.
But CSKA are "surprised and disappointed" by Toure's claims.
A club statement read: "Having carefully studied the video of the game, we found no racist insults from fans of CSKA."
CSKA spokesman Michael Sanadnze told BBC Radio 5 live: "We have nothing to hide, of course, and we have confirmation from the match delegate and the venue director that they themselves didn't hear anything special."
Lord Ouseley, chairman of anti-discrimination body Kick It Out, said the latest incident would "test" Uefa's new sanctions.
He added referee Ovidiu Hategan should not officiate again after failing to follow protocol when Toure reported the incidents to him.
Under guidelines issued by Uefa in 2009, referees have the power to tackle racist chanting from supporters in a number of ways.
As a first step, they can stop a match and ask for warnings to be made over the public address system.
The second step is to suspend a match for a short time. If the abuse continues, a match can be abandoned.
Romanian official Hategan, a Fifa referee since 2008, was also in charge when Lazio fans were found guilty of racist behaviour towards Tottenham players in the Europa League last season.
FIFPro, the global union for professional footballers, is "disappointed" match officials failed to act.
And Ouseley said if players are not adequately protected, more could walk off the pitch during a game, as former AC Milan player Kevin Prince-Boateng did during a friendly last season.
Culture, Media and Sport Secretary Maria Miller said she was concerned by the incident given Russia is due to host the World Cup in 2018.
She told BBC Sport: "When countries like Russia are going to be very shortly hosting the World Cup, it's important we know a tough line is going to be taken."
Norwich manager Chris Hughton was allegedly subjected to racist abuse on Twitter recently.
Asked whether he believed Uefa were doing enough to stop the problem of racism, he said: "I don't think so, because it is still happening. They need to put themselves in the position of those that are being targeted.
"Penalties these days seem to be fines, fines are very easily paid, particularly by the bigger clubs. Do we need harsher penalties? Absolutely we do… but Uefa have a real good opportunity to act."