Gary Lineker: England chances harmed by 'maniacal parents'
Last updated on .From the section Football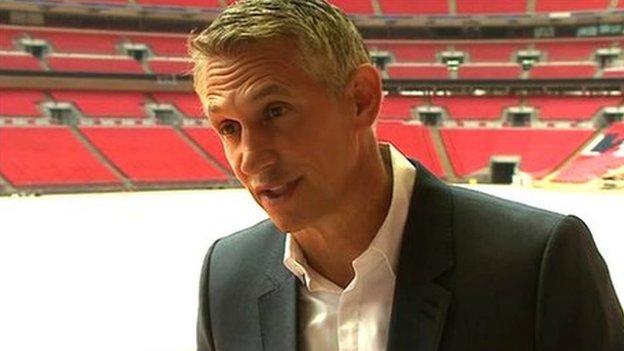 Gary Lineker says pushy parents are damaging England's chances of developing top-class players.
The ex-England striker claimed in the New Statesman that the country's "long-ball culture" has been "exacerbated by the maniacal parents on the touchline spouting nonsense at their children".
But the BBC Match of the Day presenter praised the FA's decision to bring in smaller-sided games on smaller pitches.
He also praised football's academies, adding: "The revolution has begun."
Lineker, 52, who played 80 times for England scoring 48 goals, believes the approach of some parents is harming children's confidence and that "big lads" who play direct football have too often been favoured in the youth ranks.
He said: "It's obvious, then, why we have a long-ball culture: the big lads who can kick it furthest are the ones that stand out."
Then, in reference to the technical, short passing-based game favoured by world and European champions Spain, he added: "What chance for the diminutive yet gifted midfielder? No chance of him developing his tiki-taka football.
"The only way to get to the other end of the pitch is to belt it and then belt it again."
He continued: "The competitive nature of most mums and dads is astounding. The fear they instil in our promising but sensitive [youngsters] is utterly depressing. We need a parental cultural revolution."
Lineker believes things are gradually changing, with some academies insisting that parents must be quiet and only applaud.
He said: "This has allowed talented young players to express themselves on the field, to take people on, to try a trick, all without the dreaded, predictable rubbish cascading into their ears. This is a very good thing."
Lineker's comments follow the creation of a Football Association commission, set up to improve the fortunes of the England team.