Yaya Toure: Black players may boycott 2018 Russia World Cup
Last updated on .From the section Football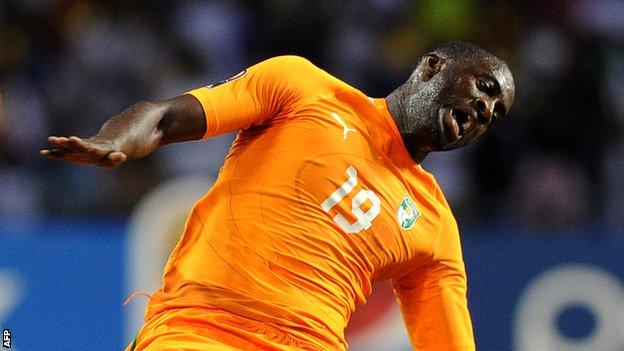 Black players might boycott the 2018 World Cup in Russia unless the country tackles racism in football, according to Manchester City's Yaya Toure.
"If we aren't confident at the World Cup, coming to Russia, we don't come," the Ivorian midfielder said.
Uefa is investigating Toure's complaint that he was racially abused by some CSKA fans during Wednesday's Champions League game in Moscow.
The Russian club denies any racist chanting took place.
CSKA, which said it was "surprised and disappointed" by Toure's allegation, will face a disciplinary hearing on 30 October.
If found guilty, Uefa could force CSKA to close part of its stadium for a future game.
A club statement read: "Having carefully studied the video of the game, we found no racist insults from fans of CSKA."
Spokesman Michael Sanadze told BBC Radio 5 live: "We have nothing to hide, of course, and we have confirmation from the match delegate and the venue director that they themselves didn't hear anything special."
But Piara Powar, executive director of European anti-discrimination body Football Against Racism in Europe (Fare) and a member of Fifa's anti-discrimination taskforce, backed Toure's stance.
He said: "Yaya Toure is absolutely right in raising the spectre of African players or players of African heritage not going to the 2018 World Cup - and without them there will not be a World Cup in Russia.
"I wouldn't blame them. In this era, players are the most powerful force and if all the players said they are not going there wouldn't be a World Cup, or if there was it would be meaningless."
Former West Ham striker and Torquay boss Leroy Rosenior, who also works with Show Racism the Red Card, thinks players threatening to boycott Fifa's biggest tournament might prompt the organisation into taking more robust action.
"I think that it's got to a point now where, when we saw the reaction of CSKA who didn't even recognise that there was a problem, people are starting to think that this isn't something that is stagnating. We're actually going backwards," he told BBC Radio 5 live.
"Boycotting the World Cup, which is sanctioned by Fifa, is a threat that maybe needs to be a serious threat because you want the authorities to come up with something off the back of a threat which will actually get something positive happening."