Swansea City not thinking about Cardiff City derby yet
Last updated on .From the section Football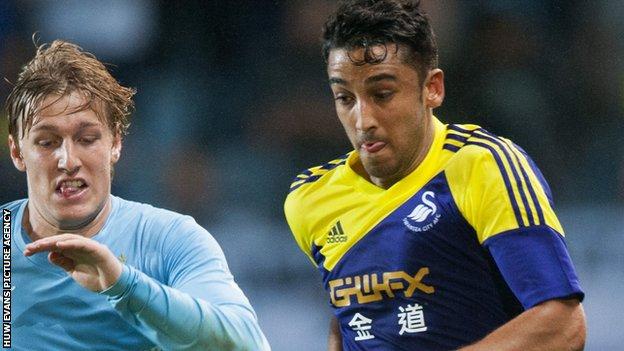 Swansea defender Neil Taylor insists the club are not yet thinking about the first Welsh Premier League derby against Cardiff City on 3 November.
He said the players are concentrating on ending a busy nine days with a home win against West Ham United on Sunday.
The Swans beat Sunderland 4-0 last weekend and drew 1-1 in Europe with Kuban Krasnodar on Thursday.
"Cardiff will take care of itself. We need to get a result against West Ham," said the left-back.
"This week is a big week for us and we need to get seven points from the week."
On the Cardiff game he added: "I've got to be honest [now the Cardiff game has been mentioned] it's the only time I've remembered it. That's the truth!"
With Ashley Williams again missing with an ankle injury and Ben Davies also sidelined for three to four weeks, Taylor captained the Swans against Russian outfit Kuban Krasnodar in the Europa Cup.
Swansea went 1-0 up and looked set to win until Djibril Cisse's injury-time penalty denied Swansea all three points.
"We just didn't get the result we wanted," admitted Taylor.
"When the the clock hits 90 minutes and you are 1-0 up you should see the game out really."
Taylor admitted that he is still not 100% match fit.
He suffered multiple fractures and a dislocation to his ankle in September 2012 and then was out with a dead leg for four weeks.
"I'm getting there. I don't feel as tired towards the end of 90 minutes as I did. The sharpness is still got to come," he said.
"I've got to get into the gaffer's [manager Michael Laudrup] way of playing. Hopefully I can get up to speed quickly.
"Between [Ben Davies and myself] we are going to have a lot of games to play this season.
"These knocks are going to happen. Ash [Williams] has got his first injury since I have been at the club for four and a half years. Hopefully Ash is back soon."
But Swansea boss Laudrup said he was unsure whether Williams would be fit for the West Ham game.
"It's too early. I don't want to to say anything about Ashley. I don't want to push him," he added.