Plymouth Argyle: John Sheridan confident of return to form
By Phil Harlow
BBC South West Sport
Last updated on .From the section Football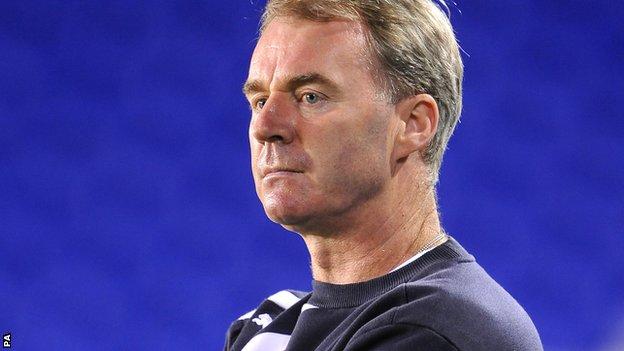 Plymouth Argyle manager John Sheridan has insisted he can turn around the club's faltering form.
Argyle have the worst goalscoring record in League Two and have gone eight games without a victory.
"I'm very confident. I really do believe we're not far off," Sheridan told BBC South West Sport.
"The players' attitude is good. People might look from the outside and wonder if there's problems - I can assure you there isn't."
Sheridan accepted that his bullish early-season predictions of a promotion push had not been lived up to and insisted that he was prepared to take the criticism which came his way.
The Pilgrims are languishing in 19th place in the table, three points above the relegation zone.
"I've just got to accept that criticism. I've been in the game long enough and I don't mind that," he said.
"I built us up at the start of the season and I still think we'll get where we want to be, I really do.
"We're in a position where I don't want us to be and where a lot of people didn't expect us to be.
"But I believe what we're doing is right. I think we should have more points and I've got to stick to my beliefs and I'm sure the time will come when we start winning games.
"I've got to keep the players positive and it's hard because we're not winning and we're not scoring. But there's no point in sitting here thinking we're never going to score and never going to win.
"But I think there's a win just around the corner. Three draws in eight games isn't good enough and I know that. I wont accept it and I expect us to be doing a lot better."