Yaya Toure: Fifa & Uefa must act over football racism
Last updated on .From the section Football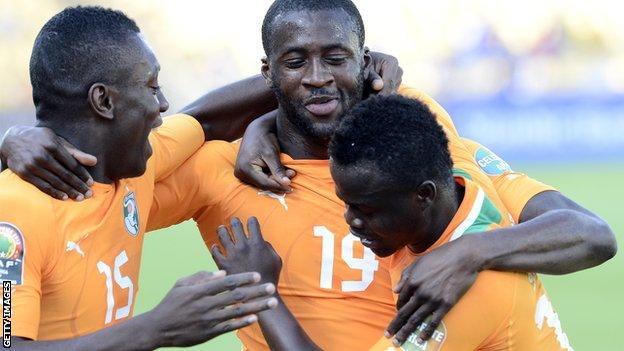 Manchester City midfielder Yaya Toure says it is time to let Fifa and Uefa "do their work" after accusing CSKA Moscow fans of racism.
Toure claimed he was racially abused during Wednesday's Champions League win and suggested African players might boycott the 2018 World Cup in Russia.
Asked on Friday whether a boycott was still possible, the Ivory Coast player told BBC Afrique: "We're not here yet."
He added: "Let's leave Fifa and Uefa to do their work."
Toure spoke to referee Ovidiu Hategan during the 2-1 win over CSKA to complain about the behaviour of the home fans, although the Russian club have denied any racist abuse took place.
The Romanian official chose to do nothing at the time, but Uefa - which governs European football - has since opened disciplinary proceedings against CSKA Moscow for the "racist behaviour of their fans".
"Uefa has decided to do certain things. They have decided to apply the rules. That's all we want," said Toure.
"A lot of things have been said about racism. If today an organisation and supporters stray from the straight path or slip up, the goal is to set them straight again.
"We are all humans. It is not a nice feeling to go and play a football match - to bring joy to the people - and to be called a monkey or to hear monkey noises. I don't look like a monkey. That's what disappoints me so much."
Toure had suggested after the match in Moscow that African players might decide not to play in the 2018 World Cup if nothing was done to tackle the issue of racism.
But several Premier League managers believe talk of a boycott is either wrong or at best premature.
Chelsea boss Jose Mourinho insists threatening the 2018 World Cup is not the way to combat racism in football and urged players not to punish "billions" for the "disgraceful behaviour" of thousands.
"If I was a black player, I would say the other billions are much more important, so let's fight the thousands, but let's give to the billions what the billions want," he said.
"And the billions want the best football - and the best football without black players is not the best football."
Manchester United manager David Moyes believes walking off the pitch would be allowing those responsible for the behaviour to win.
"It is the people who come up against the racial abuse that should really answer the question but my feeling is I don't think walking off the pitch [works]," he said.
"That gives the people chanting or shouting against you what they want.
"That is not the way. Sanctions have to be taken on the club, the players and other supporters who are involved."
Arsenal boss Arsene Wenger said Uefa must complete its investigation before there is any more talk of a boycott.
"It's a bit early because it's not proven what happened," he said.
Manuel Pellegrini, Toure's manager at Manchester City, urged the European governing body to act.
"Uefa have the right things in place to deal with the problem and they need to deal with the issue," said the Chilean. "I hope it won't happen again."
While Uefa has said it is investigating Toure's complaint, its president Michel Platini has ordered an internal investigation to find out why proper protocol was not followed in the handling of the incident.
Kick It Out chairman Lord Ouseley said Hategan should not officiate again for failing to deal with the alleged abuse.
Sports minister Helen Grant tweeted: "Glad Uefa have launched a disciplinary investigation & expect tough sanctions if proven - racism absolutely indefensible and intolerable."
Manchester United defender Patrice Evra fears racism will never be beaten, however.
Evra, victim of Luis Suarez's racist comments at Anfield two years ago, told MUTV: "I don't think we will stop the racism.
"Fifa have to do something because every year we hear something about racism.
"I am sad even to have to talk about it."