Rangers: Dave King seeks path forward at Ibrox
Last updated on .From the section Football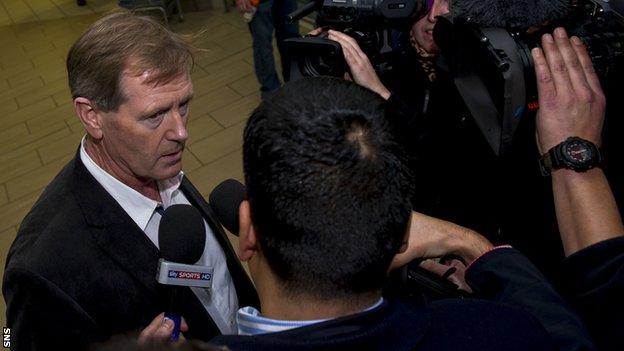 Former director Dave King aims to help build consensus on the best way forward for Rangers.
The South Africa-based businessman is in Glasgow for talks with both factions in the power struggle for boardroom control at Ibrox.
"I'm here to see whether I am in a position to facilitate taking the club forward," said King.
"To get rid of the disunity and lack of harmony both at board level and between the board and the fans."
King, who invested £20m when Sir David Murray owned Rangers, has said he wants to lead the club's return to the top tier of Scottish football.
On this visit, he met Sandy Easdale, one of three members of Rangers' football board.
Sandy Easdale said: "I had a very pleasant meeting with Dave King at McGill's Buses in Inchinnan.
"He's a very interesting man and I enjoyed his company. However our discussion was private and I will be saying nothing further."
King will also hold talks with the Paul Murray-led group of shareholders, who are seeking to gain influence on the running of the League One club.
"I am here for a series of meetings that are at my request," added King on his arrival at Glasgow Airport.
"These meetings will remain confidential."
King also spoke of his intention to explore the possibility of "assisting in a fund-raising exercise".
He said: "We need a funding campaign to make sure that when the club does need money, that it is already in place with the right people at the right cost."