Barcelona manager Tata Martino takes first blood in Clasico
By Andy West
European football writer
Last updated on .From the section European Football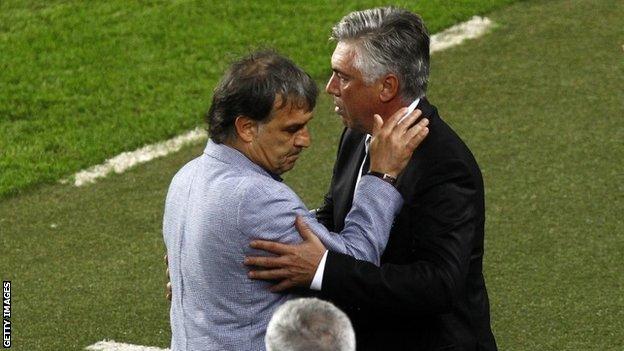 Saturday's managerial clash of Clasico debutants ended decisively in favour of Barcelona's Tata Martino, with Carlo Ancelotti now facing a rough ride from the Madrid media following Real's deserved 2-1 defeat at the Nou Camp.
Goals from Neymar and Alexis Sanchez ensured Jese Rodriguez's late strike was irrelevant.
Before the game, Ancelotti was the man with the biggest decisions to make. His team had been winning but playing poorly, and there were clear deficiencies to address in a number of areas on the pitch.
His response was a bold and daring team selection, with out-of-form French striker Karim Benzema, who has not scored a league goal for more than two months, replaced in the starting line-up by star summer signing Gareth Bale, thrusting the Welshman into an unaccustomed central striking role.
Ancelotti also overlooked Alvaro Arbeloa in favour of youngster Dani Carvajal, who had been sharing playing time with the former Liverpool right-back in recent weeks - and that decision was perhaps sparked by memories of Arbeloa's torrid outing against Neymar in the Confederations Cup final.
The Italian's most surprising selection, however, was dropping Asier Illarramendi, who had recently started to look at home in the centre of Madrid's midfield following his summer move from Real Sociedad, and replacing him with central defender Sergio Ramos.
The intention of his redeployment of Ramos was clear - beefing up the centre of midfield by positioning an aggressive ball-winning tackler to deny space to Lionel Messi around the edge of the penalty area.
However, that strategy was blindsided by an unanticipated move by Martino, who lined up Messi on the right wing, with Cesc Fabregas appearing in the withdrawn striker's role.
During the opening period, Barca's excellent passing ability in midfield - where Xavi, Fabregas, Andres Iniesta and Sergio Busquets dominated proceedings around the halfway line before looking to exploit the width offered by Neymar on the left and Messi on the right - rendered Ramos's role more or less redundant.
Madrid did not need a destroyer on the edge of the box because Barca were not trying to playing their way through that area.
Martino's only other pre-match selection dilemma was in the centre of defence, where many fans had been calling for the return of Carles Puyol following the legendary captain last weekend making his first appearance after a seven-month absence with a knee injury.
The Argentine boss resisted those calls, however, opting for Gerard Pique and Javier Mascherano, and that duo responded with solid displays.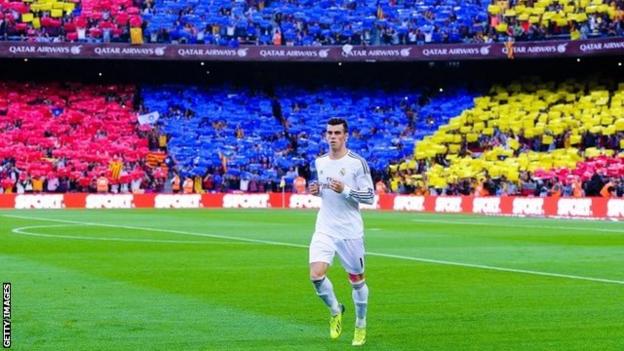 But in truth, Barca could have fielded any centre-back pairing in the first half, such was the insipid nature of Madrid's rare attacks. Bale, in particular, looked completely lost - he was playing in a new position in a new team, and there was zero connection between him, Cristiano Ronaldo and Angel Di Maria.
Rightly, Ancelotti reacted after the break - although he could have perhaps done it sooner - by replacing Ramos with Illarramendi and Bale with Benzema, restoring the personnel that had been winning - albeit unconvincingly - in recent weeks.
The improvement was immediate and immeasurable, and Barca were hanging on for periods of the second half. But then Martino came up trumps again, with the introduction of Alexis Sanchez for the tiring Fabregas; within minutes, Sanchez had scored a truly wonderful goal and the game was effectively over.
Everything Martino did, then, worked out pretty much to perfection. Although Messi was somewhat quieter than usual on the right wing, the width he provided helped Barca to control the first half. The centre-back pairing of Pique and Mascherano was largely untroubled, and substitute Sanchez scored a sensational game-clincher.
For Ancelotti, though, there are plenty of questions to answer. Even before kick-off, it was hard to justify the selection of Bale considering his lack of match practice. Dropping Benzema was understandable, but young striker Alvaro Morata has done nothing but impress whenever called upon this season and deserves a lot more playing time.
The selection of Ramos in midfield, as well, was very questionable. As Ancelotti himself acknowledged, the team had gradually improved since he introduce the triple pivot 'trivote' formation in midfield, centred around the discarded Illarramendi, and abandoning it handed the initiative to Barcelona.
Perhaps that biggest questions of all, however, should be addressed not to Ancelotti but to Madrid's club president Florentino Perez.
Only time will tell whether Bale becomes a success at the Bernabeu, but this evidence merely confirms suspicions he was a player they did not need - evidenced by the fact that he had to be played out of position in order to be shoehorned into the team.
Bale, do not forget, was not Ancelotti's signing - he was Perez's… the president's man. Furthermore, there's a suspicion, albeit perhaps groundless, that Perez has been exerting pressure upon his manager, whether explicit or implicit, to play Bale from the start, even though the Welshman is clearly less than fit following a disrupted summer involving no pre-season and a doubtless related series of irritating injuries.
Taking over from Jose Mourinho was always going to be something of a poisoned chalice for Ancelotti, especially when he was then presented with an expensive new signing that he had not asked for.
Saturday's Clasico was not his finest tactical hour, but Ancelotti is working in a strange environment and the inevitably angry response from Madrid fans and media should not forget the strong and questionable influence of their president.