Cardiff boss Mackay hits back at Jose Mourinho time-wasting claims
Last updated on .From the section Football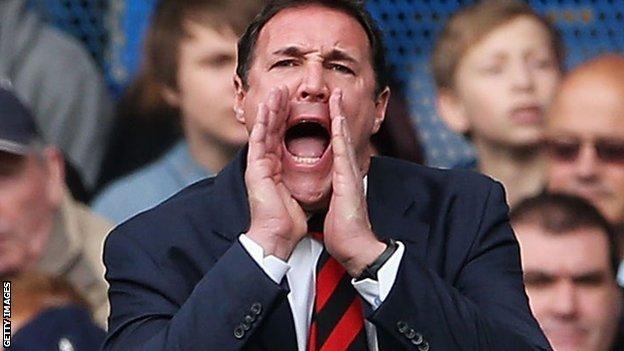 Cardiff City manager Malky Mackay has dismissed Jose Mourinho's accusation of time wasting in the 4-1 defeat by Chelsea.
Blues boss Mourinho was sent to the stands and fined £8,000 by the Football Association for "improper conduct".
"I remember watching Porto play Celtic in the Uefa Cup final a long time ago and that allegation was labelled at him by Martin O'Neill," said Mackay.
"It is just something that is borne out of frustration at being sent off."
Mackay said he has not been concerned by Mourinho's comments about Cardiff.
He was also happy to remind the media of the 2003 Uefa Cup final when Porto were accused of time wasting by then-Celtic manager O'Neill.
At the time O'Neill had said of Mourinho's team: "I will probably get into trouble for this, but it was poor sportsmanship. The rolling over, the time wasting."
And Mackay believes the amount of added time at the end of the second half at Stamford Bridge backs his claim that Mourinho's accusation was unfounded.
"It doesn't really bother me in the slightest," said Mackay.
"I think when you look at four minutes stoppage time being held up, nowadays that is a pretty normal standard amount of time in the second half."
Cardiff are away to Norwich City on Saturday with former Canaries stalwart Mackay focusing on the task of picking up an important three points.
"I was very very happy with the performance of a lot of my players against a team [Chelsea] who are going to be challenging for the Premier League title," he said.
"Now we face a side who I think have got experience throughout their team.
"They have invested again and there are guys who have played together for many years.
"I think the atmosphere, the tight pitch, always make for a tough game at Carrow Road. I have never had an easy one and that included when I played there."