Yaya Toure row: Garth Crooks angered by Wenger and Mourinho
Last updated on .From the section Football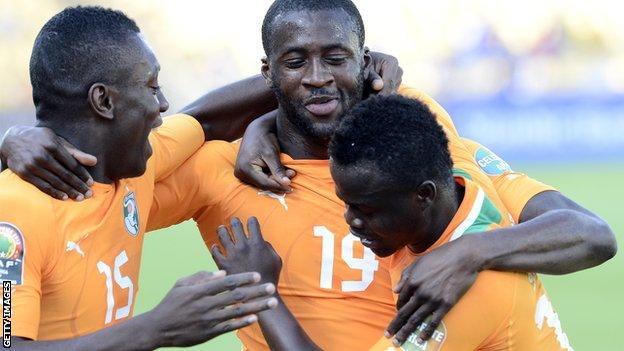 Garth Crooks has criticised Arsene Wenger and Jose Mourinho for their response to the Yaya Toure racism row.
Arsenal manager Wenger wants to wait for "more proof" that Manchester City midfielder Toure was racially abused by CSKA Moscow fans on Wednesday.
And Chelsea boss Mourinho has played down talk of black players boycotting the 2018 World Cup in Russia.
Crooks, trustee of anti-racism campaign group Kick It Out, said he was "disappointed" by their comments.
"How many more times are black players going to have to suffer this nonsense in order to play football," said BBC football expert Crooks, who played for Stoke and Tottenham.
"For Wenger to ask for further evidence is extraordinary given the fact that Yaya heard the evidence reported and his club have backed their captain on the night.
"I am equally disappointed with Jose Mourinho's comments, about how he feels that black players should go into a hostile racial environment in order to show them how good they are.
"Now there is a man who has never had to suffer racial abuse.
"I really expected modern managers such as Wenger and Mourinho to support Toure and other Premier League players."
"If that is the best they can say on this issue, I suggest they stick to what they know."
Toure claimed he was racially abused in Moscow and suggested African players might boycott the 2018 World Cup in Russia.
Asked on Friday if a boycott was still a possibility, the Ivory Coast player told BBC Afrique: "We're not here yet."
He added: "Let's leave Fifa and Uefa to do their work."
Mourinho insists boycotting the 2018 World Cup is not the way to combat racism in football and urged players not to punish "billions" for the "disgraceful behaviour" of thousands.
"The history of football was made equally by many races," he said. "And the black players have a fantastic contribution of what football is.
"You go to the World Cup, the World Cup is the biggest expression of national team competitions - races, people from different parts of the globe, people from every continent. And the black players are very, very important for that.
"Who is more important, the billions of people in love with the game around the world? Or a few thousand that go to football stadiums and have disgraceful behaviour in relation to black players.
"If I was a black player I would say the other billions are much more important, so let's fight the thousands, but let's give to the billions what the billions want. And the billions want the best football and the best football without black players is not the best football, for sure."
Wenger added that Uefa must complete its investigation before there is any more talk of a boycott.
"I don't know what really happened there, but you cannot tolerate racism of any kind and you have to fight against it. How do you do that?" he said.
"Honestly I believe Uefa is taking action in the right way and to go as extreme as a boycott, it's a bit early to do that because it's not proven what happened. I believe that Russia itself has to fight against that and of course you want everybody to be active on that."
Toure spoke to referee Ovidiu Hategan during the 2-1 win over CSKA to complain about the behaviour of the home fans, although the Russian club have denied any racist abuse took place.
The Romanian official chose to do nothing at the time, but Uefa, which governs European football, has since opened disciplinary proceedings against CSKA Moscow for the "racist behaviour of their fans".